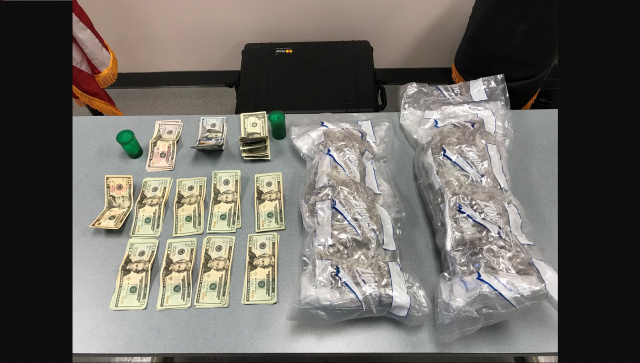 PICKAWAY COUNTY – According to Pickaway County Sheriff Robert B. Radcliff the US 23 Major Crimes Task Force and a few Deputies and Detectives from Pickaway County, Ross County and Fayette County Sheriff's Offices participated in a Criminal Interdiction Ride Training which included classroom training and ride training portions. The four-day training was put on by the Ohio State Highway Patrol.
During the ride training portion on October 26, 2017, Deputy Kyle Eveland and an Ohio State Highway Patrol instructor, spotted a 2017 Nissan Altima traveling southbound on US Rte 23. At 9:21AM Deputy Kyle Eveland was able to get the Nissan Altima stopped on US Rte 23 just south of St Rte 361. Deputy Eveland made contact with the driver Thomas H. Smith III, 36 years old from Albion, Michigan. Deputy Eveland noticed Thomas H. Smith III was displaying criminal indicators.
Deputy Stephen Harger and his K9 partner Joris arrived on scene and did a free air sniff around the Nissan Altima. Joris alerted on the vehicle. During the probable cause search of the vehicle Deputies located two large vacuum sealed bags of Marijuana, which weighed over 6lbs and a white powder like substance that weighed approximately 1oz. Members of the US 23 Major Crimes Task Force assisted at the scene of the traffic stop. All narcotics seized will be sent to BCI&I for chemical testing and to be weighed.
Thomas H. Smith III was transported to the Pickaway County Jail and charged with Trafficking in Marijuana a Felony of the Third Degree and Possession of Marijuana also a Felony of the Third Degree.
The case remains under investigation by the Pickaway County Sheriff's Office.
Sheriff Radcliff would like to thank the US 23 Major Crimes for hosting the training and the Ohio State Highway Patrol for instructing the training.