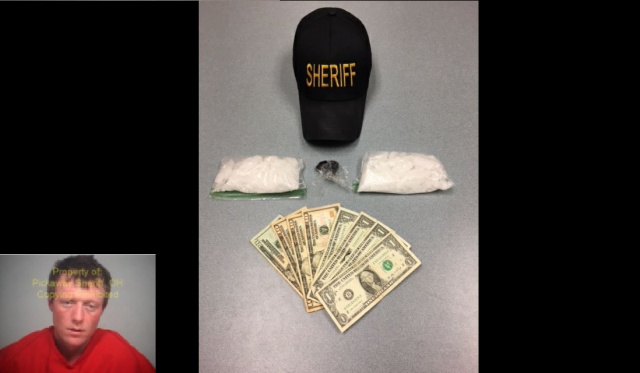 According to Pickaway County Sheriff Robert B. Radcliff, on April 13th, 2018, at 1:28PM, Deputies from Pickaway County Sheriff's Office, were dispatched to a possible injury accident on State Route 56 East near Huber Hitler Road. Prior to the deputies' arrival, witnesses saw 2 subjects flee the scene of the accident into the woods. Deputy Harger and K-9 Joris were requested to attempt to track the subjects.
While tracking the subject, dispatch received a call on a male, carrying white shoes asking for a ride, in the area of Tarlton Road and Morris Salem Road. Deputies spoke with several witnesses in that area, advising the male left eastbound toward Thatcher. Corporal Lane and Deputy Harger went door to door where the subject was last seen and spoke with a witness who advised her father gave the subject a ride to the 56 Mini Mart. The witness advised they would be in a green Ford Ranger and should be at the gas station.
Upon pulling up to the 56 Mini Mart, Deputies located the vehicle in question and the male matching the description of all the witnesses. Sergeant Schleich and Deputy Darnell took the male into custody. The male was later identified as, Jimmy Stepp, 34, of Athens, Ohio. Upon, a pat down of Mr. Stepp's outer garments, Deputies located 12 grams of black tar like substance (suspected heroin) in his right front pocket. Located on the passenger side floor where Mr. Stepp was sitting, were the white shoes he was carrying around as he approached the different residences. Inside the shoes, Deputies located a large amount of a crystal-like substance (suspected methamphetamine, 1/2 pound.)
Mr. Stepp was taken to Berger ER for evaluation from the vehicle accident and later transported to the Pickaway County Jail. Mr. Stepp is charged with Aggravated Trafficking, (F-1), Possession of Schedule I (F-1) and Possession of Heroin, (F-3).
The 2nd subject was later found out near the scene of the accident. He was identified as Robert Wheeler Jr, 34, of Athens, Ohio. Mr. Wheeler was taken to the hospital for treatment and will be facing criminal charges as well.
The Pickaway County Sheriff's Office encourages anyone with drug tips, to please contact the Sheriff's Office at their anonymous tips line at [email protected] Without the help of the communities' tips we would not be successful in our efforts of keeping the community safe, and fighting drug abuse.