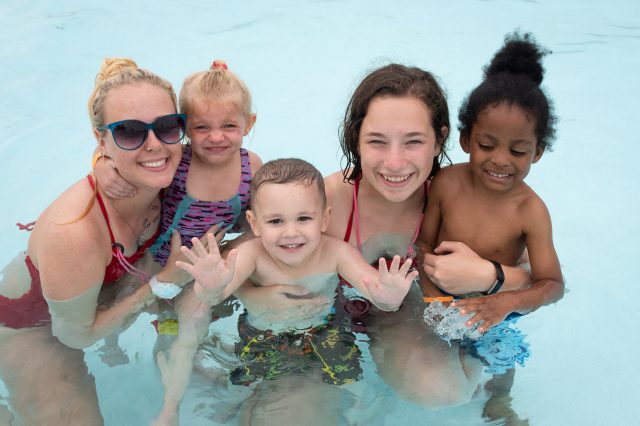 Powell, OH – Zoombezi Bay is joining forces with the world's top water safety and training organizations to serve as a host site for the World's Largest Swimming Lesson™(WLSL) from 10 a.m.-10:30 a.m. on Thursday, June 23, 2022 in the Wild Tides Wave Pool. This event is designed to help build awareness about the vital importance of teaching children to swim to help prevent drowning.
Zoombezi Bay will be one of hundreds of locations across the globe that will simultaneously offer a basic, 30-minute swimming instruction to children ages 2 through 12 years old. The attendance at Zoombezi Bay will be combined with all other participating aquatic facilities in an attempt to collectively break the Guinness World Record™. Since this event launched in 2010, Team WLSL™ currently holds five Guinness World Records™ for the largest simultaneous swimming lesson conducted at multiple venues.
The lesson at Zoombezi Bay will be conducted by instructors from the local community who have a current swim instructor certification. Only WLSL participants will have access to the wave pool during the event. The wave pool will open to the general public at noon that day.

To encourage participation, Zoombezi Bay is offering participants a discounted entry of $17, which includes access to the entire water park following the lesson as well as Columbus Zoo and Aquarium. (Regular admission prices apply to those accompanying the swimmers; children under 10 years old must be accompanied by a guardian.) The lesson is free for Season Pass Holders. As part of the swim lesson plan, all ratios will comply with American Red Cross standards, and parents will be permitted to accompany their children in the wave pool. The lesson will be basic in nature and will be broken down into 4- to 10-minute sessions.
Registration begins at the Zoombezi Bay Season Pass entrance at 9:30 a.m.; pre-registration is encouraged but not required. For more information or to purchase tickets, visit the Calendar Page on Zoombezi Bay's website.
According to the American Academy of Pediatrics, drowning is now the leading cause of unintended death in the U.S. for children ages 1-4 years, and the second leading cause of death in children and teens ages 5-19 years. Research from the American Academy of Pediatrics shows that the risk of drowning can be reduced by 88 percent if children participate in formal swimming lessons between the ages of 1-4 years. However, a survey conducted by the American Red Cross in 2020 showed that 56 percent of Americans are unable to swim or do not have the necessary basic swimming skills.
The WLSL website states that since the World's Largest Swimming Lesson first began, more than 332,000 children and adults on six continents have participated, generating more than 2 billion life-saving, learn-to-swim media impressions, which has helped to communicate to communities the importance of learning how to swim. This will be the ninth year that Zoombezi Bay has participated in the challenge.