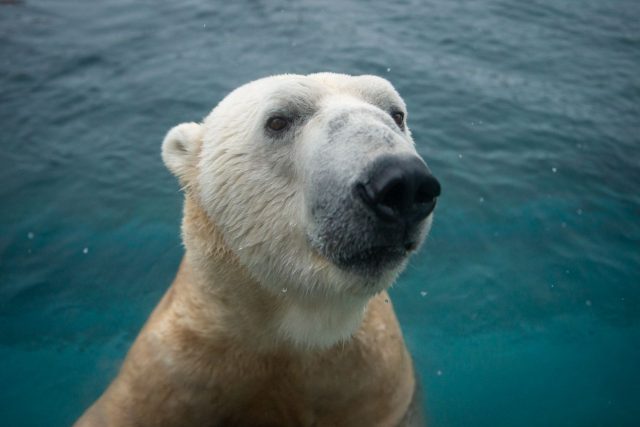 Powell, OH— The Columbus Zoo and Aquarium is welcoming back a familiar, beloved face. Lee, a 23-year-old male polar bear, arrived from the Louisville Zoo in Kentucky this afternoon.
Two Animal Care team members from the Columbus Zoo's North America and Polar Frontier regions, along with a staff veterinarian and two Facilities staff members, accompanied Lee during the drive to ensure that he arrived safely. The Zoo's dedicated Animal Care team has continued to observe Lee closely since his arrival and reports that he is settling in very well.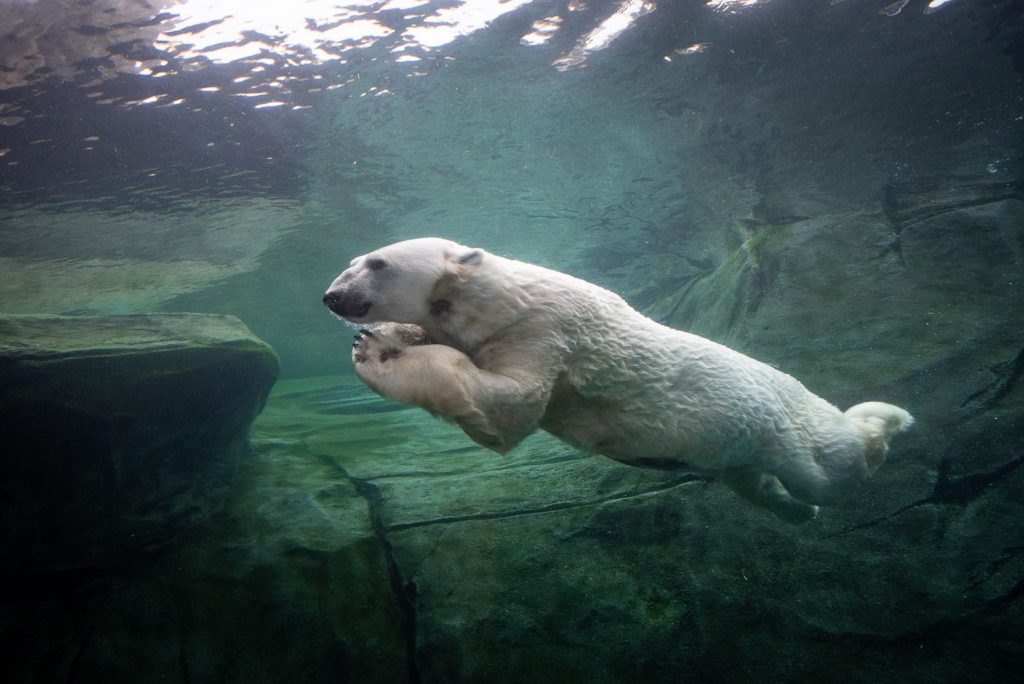 Lee is returning after first arriving at the Columbus Zoo from Denver Zoo in November 2018. While he lived in Columbus, he sired his first cub, Kulu, who was born at the Columbus Zoo on November 28, 2019—Thanksgiving Day—to mother, Aurora. At that time, the Columbus Zoo was also home to Aurora's twin sister, Anana. To ensure that Aurora and her cub, as well as Anana—who was preparing to den with the possibility of having cubs—had plenty of space for rearing their offspring, the Association of Zoos and Aquariums' (AZA) Species Survival Plan® (SSP) recommended that Lee be placed at the Louisville Zoo, where he moved in August 2020. After being weaned from his mother, Kulu moved to the Como Park Zoo in Minnesota in October 2021 while Aurora and Anana remained at the Columbus Zoo.
In March 2022, the Columbus Zoo's Animal Care and Animal Health teams, in collaboration with a team led by Dr. Erin Curry at Cincinnati Zoo & Botanical Garden's Lindner Center for Conservation and Research of Endangered Wildlife (CREW), helped perform artificial insemination (AI) on Anana and Aurora, with shipped semen from Lee. AI is a relatively newer reproductive technology in polar bears that, at the time of these procedures, had been attempted with CREW's expertise a total of only 14 times in North America, and an estimated 20 attempts worldwide. So far, none of the attempts, including those done at the Columbus Zoo, have been successful. However, more information and valuable data is gained with each try. The Zoo's care team continues to work diligently with other scientists to explore new ways to help protect the future of this species, which is listed as "Vulnerable" by the International Union For Conservation of Nature (IUCN) Red List of Threatened Species™.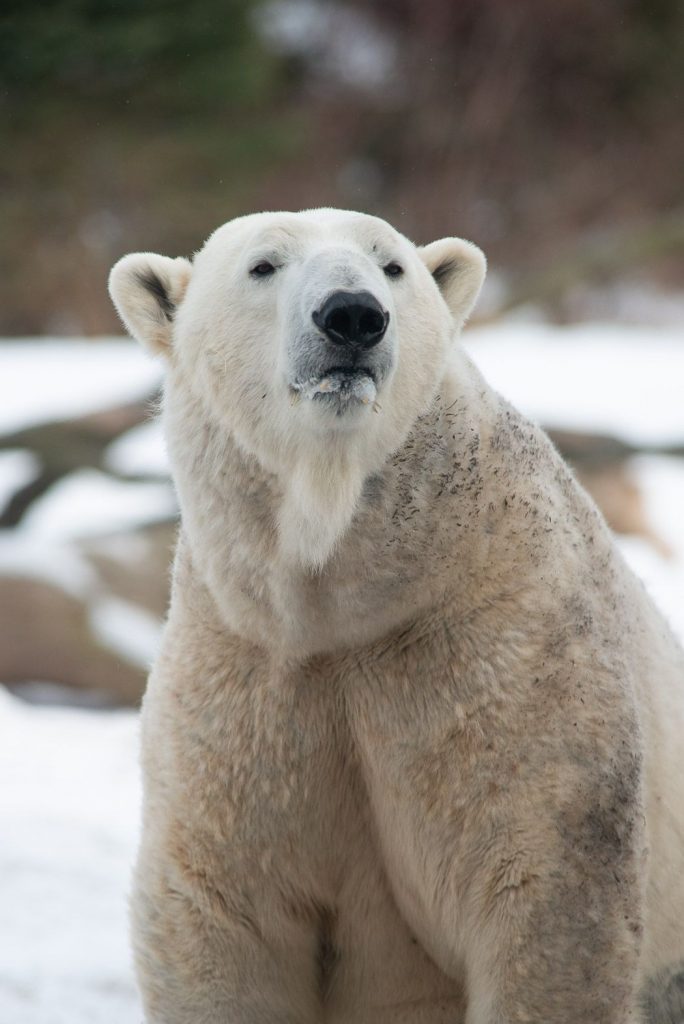 As the next step for helping to protect this at-risk species, the SSP, a cooperatively managed program designed to maximize the genetic diversity and increase the population sustainability of threatened and endangered species in human care, recommended that Lee be paired with 16-year-old Aurora in the hopes of producing cubs again in the future. (Unfortunately, Anana was humanely euthanized in October 2022 when her health rapidly declined due to complications from an autoimmune disease.) Lee's reintroduction to Aurora will take place after completing a mandatory quarantine period behind the scenes upon his arrival.
The Columbus Zoo has been successful in its polar bear breeding program with five surviving cubs born since the Zoo's Polar Frontier region opened in 2010. Along with Kulu, this includes:
· Nora (female, born on Nov. 6, 2015 to mother, Aurora, and father, Nanuq, and now lives at the Oregon Zoo)
· Amelia Gray (female, born on Nov. 8, 2016 to mother, Anana, and father, Nanuq, and now lives at the Oregon Zoo with half-sister Nora)
· Twins, Neva (female) and Nuniq (male), born on Nov. 14 to Aurora and Nanuq, who live at Utah's Hogle Zoo and Kansas City Zoo, respectively
All of these births are important to the survival of polar bears, which in 2008 became the first species listed under the Endangered Species Act as threatened primarily due to climate change.
"We are proud to be a part of collaborative efforts working to help polar bears, and we're particularly excited to welcome Lee back to the Columbus Zoo. He quickly became a favorite with Aurora, our staff, and our community when he lived here before. He's sure to continue touching hearts, raising public awareness, and inspiring all of us to learn more about actions we can take to make a positive difference for polar bears and other species," said Nikki Smith, curator of the Columbus Zoo's North America and Polar Frontier regions.
Currently, there are fewer than 60 polar bears in North American zoos, and the species is facing increasing threats in their native circumpolar north range, including the United States (Alaska), Canada, Russia, Norway, and Denmark (Greenland). Polar bear populations are declining due to the disappearance of sea ice, which they need for hunting seals, their primary food source. Experts estimate that only 20,000-25,000 polar bears remain. Some scientists believe if the warming trend continues, two-thirds of the polar bear population could disappear by the year 2050.
The Columbus Zoo and Aquarium is dedicated to conserving polar bear populations, and since 1998, the Zoo has contributed more than $300,000 to projects benefiting polar bears in the Arctic. The polar bears at the Columbus Zoo have also contributed critical scientific information that is used by polar bear researchers to understand polar bear behavior, health, and general biology in their native range. Additionally, the Zoo is designated as an Arctic Ambassador Center by Polar Bears International (PBI), and accredited by the Alliance of Marine Mammal Parks & Aquariums, an international association and accrediting body specializing in marine mammals, including polar bears.