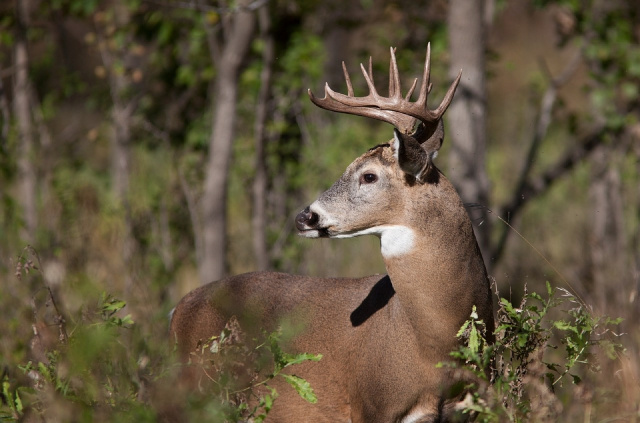 COLUMBUS, Ohio – The Ohio Department of Natural Resources (ODNR) Division of Wildlife proposed 2023-24 white-tailed deer hunting seasons to the Ohio Wildlife Council during its regularly scheduled meeting on Wednesday, Feb. 8. Deer hunting bag limits were proposed to increase in six counties and decrease in one. The proposed deer hunting seasons are similar to last year.
 
As in years past, only one antlered deer may be harvested, regardless of where or how it is taken. Hunting hours are 30 minutes before sunrise to 30 minutes after sunset. The proposed statewide deer hunting dates for 2023-24 include:
Deer archery: Sept. 30, 2023-Feb. 4, 2024
Youth deer gun: Nov. 18-19, 2023
Deer gun: Nov. 27-Dec. 3, 2023; Dec. 16-17, 2023
Deer muzzleloader: Jan. 6-9, 2024
Deer bag limits
Bag limit increases from two to three deer were proposed in six counties: Belmont, Gallia, Geauga, Harrison, Jefferson, and Monroe. Deer bag limit increases are designed to slow herd growth and increase hunting opportunity.

A bag limit decrease from three to two deer was proposed for Butler County. A decrease in the county bag limit is designed to allow herd growth where desirable. A proposed bag limit map is available at wildohio.gov.

Disease surveillance area deer hunting seasons
Wednesday's proposals also included separate deer hunting regulations in the Chronic Wasting Disease (CWD) surveillance area of Hardin, Marion, and Wyandot counties. The proposed 2023-24 disease surveillance area deer hunting regulations are similar to last season, with an earlier start to the archery hunting season and an additional early firearms season.

In addition to the statewide hunting seasons, hunters in Hardin, Marion, and Wyandot counties will have opportunities to participate in disease surveillance area seasons:
Deer archery season: Sept. 9, 2023-Feb. 4, 2024
Early gun season: Oct. 7-9, 2023
A disease surveillance area was established following the discovery in 2020 of CWD-positive deer in Wyandot County. Monitoring is ongoing and the Division of Wildlife has proposed additional measures to increase the deer harvest, decrease the possibility of disease transmission, and limit the spread of CWD in Hardin, Marion, and Wyandot counties. CWD is a fatal neurological disease that affects deer and other similar species.
 
Ohio Wildlife Council
The Ohio Wildlife Council is an eight-member board that was first formed in 1949. It approves all Division of Wildlife proposed rules and regulations. Council meetings are open to the public. Individuals interested in providing comments are asked to call 614-265-6304 at least two days prior to the meeting to register. All comments are required to be three minutes or less. 
 
Small game, waterfowl, and wild turkey hunting season proposals for the 2023-24 seasons were presented in January. A complete list of proposed rule changes for 2023-24 are available at wildohio.gov. Anyone who would like to comment on Division of Wildlife proposals can do so online at wildohio.gov from Feb. 10-March 8. A statewide hearing on all proposed rules will be held on Wednesday, March 15.
 
In 2023, the Division of Wildlife celebrates 150 years of professional fish and wildlife conservation since it was founded as the Ohio Fish Commission in 1873. Throughout the agency's history it has remained committed to fish and wildlife research, restoration, conservation, and education.