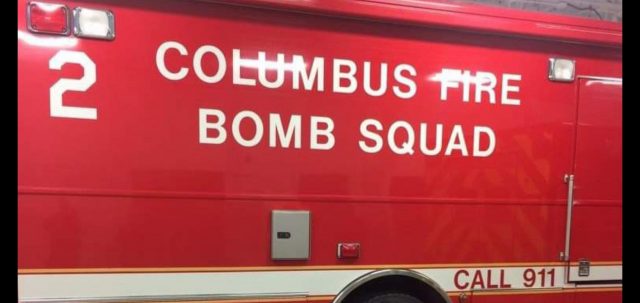 LICKING – Columbus Bomb Squad is heading to the scene of another unusual package that was dropped off in the lobby of the Sheriffs department.
According to Licking Sheriff Randy Thorp at approximately 11:30AM this morning a male subject entered the lobby of the the Licking County Sheriffs Office where the administrative offices are located and dropped a package stating it contained red phosphorus and then left the area.



Out of an abundance of caution the administrative offices have been evacuated and access to the building has been closed. The Newark Fire Department is on the scene awaiting the arrival of the Columbus Fire Department Bomb Squad. The package will be removed and disposed of in a safe manner, an investigation is ongoing to identify the individual.
UPDATE: The Columbus Bomb Squad has successfully removed the suspicious package from the building and they have identified an explosive liquid of an unknown nature to be inside. The bomb squad will safely destroy the liquid. At approximately 1:54 PM deputies located suspect Ted Jenkins, age 50 of Newark, near West Main and 21st Street in Newark. Jenkins became combative when approached by deputies, a taser was deployed and he was taken into custody. A sample of the liquid has been secured and will be tested for identification. The suspect will be held at the Licking County Jail charged with inducing panic. The investigation is ongoing and additional charges are anticipated. I would like to thank the Licking County Sheriffs Office Employees, the Newark Fire Department, the Columbus Ohio Division of Fire Bomb Squad and the Newark Police Department for their assistance and professionalism while bringing this incident to a safe and positive conclusion.