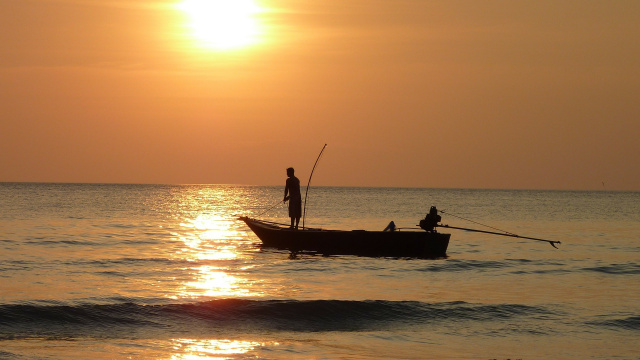 CLEVELAND – A video has gone viral after two professional fishermen were caught cheating by inserting items into their trophy fish before weight off. These two fishermen are now in hot water.
On Friday during the Lake Erie Walleye Trail Championship event a professional fishing series two men angler, Chase Cominsky from Pennsylvania, and his partner, Jake Runyon from Ohio are the two competitors that have been accused of the scandal.
In a viral video below, you can see the anglers weighing in their catches for the day, and slowly putting them at the top of the leaderboard, winnings thousands of dollars in cash and prizes, but officials saw something wrong during the weigh-off and started to investigate. The official uses a knife and cuts open the fish and all fish had lead weights inside. A total of eight weights and some fish fillets were in the stomachs of the fish hidden from the public.

Before the scandal, the duo was in the standing to be the professional fishing team of the year, which would have had a large windfall of cash, sponsorships, and prizes. It is rumored that the duo has won over six figures in the past.
The two pro fishermen were disqualified from the contest, but it didn't end there.
The director of the Lake Erie Walleye Trail event Jason Fischer posted about the controversy on the circuit page's Facebook.
""Disgusted guys and gals, I'm sorry for letting you down for so long and I'm glad I caught cheating taking place in YOUR LEWT at the same time.I can't think enough to post results, but congrats Tsczyko and French and TOY Hendricks and Ulmer. Same goes to the yak and open winners. I hope you know now that when I say "you built this LEWT and I will defend its integrity at all costs", I mean it. You all deserve the best."
The director said that, "All LEWT anglers deserve better, I will take time and figure out how I can solidify the integrity of our sport here on Erie. I appreciate all the support the last 24 hours and for the last 4 years. I truly love what WE have built and I will be back next season with some great new ideas. Schedule will be posted soon!"
Local Sheriff's department and police are investigating and possible charges could occur.
VIDEO IS BELOW: Warning of language.