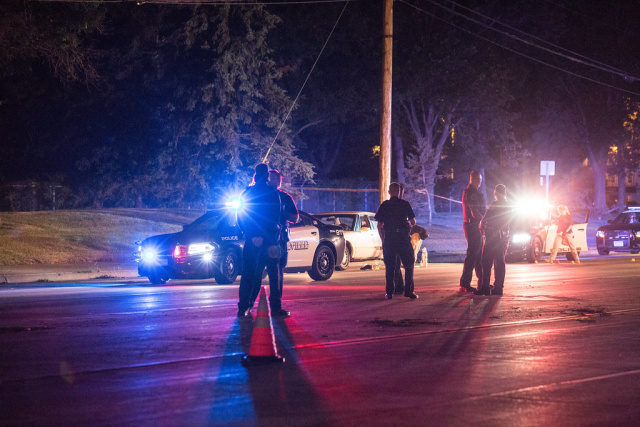 CIRCLEVILLE – Circleville Police reports for October 02, 2019 filtered by relevance.
Theft
CALLER REQUESTING AN OFFICER DUE TO A MALE BEING BROUGHT INTO THE EMERGENCY ROOM WITH OVER $60,000 WORTH OF JEWELRY WITH THE PRICE TAGS STILL ON THEM.
PCSO DEALT WITH THE MALE, THERE IS NO EVIDENCE AT THIS TIME TO PROVE THE MERCHANDISE WAS IN FACT STOLEN. MALE HAS AN ALTERED MENTAL STATUS AND WAS TRANSPORTED TO BERGER BY PICKAWAY TOWNSHIP FROM THE PILOT GAS STATION.
009: Checked OK
10/02/2019
Suspicious Vehicle
CALLER ADVISED OF A VEHICLE PARKED BY ONE OF THE GAS PUMPS OF THIS LOCATION AFTER THE BUSINESS IS CLOSED.
CHECKED OKAY, PARKED ON PRIVATE PROPERTY.
009: Checked OK
Prowler
CALLER REQUESTING AN OFFICER DUE TO HEARING A SUBJECT KNOCK AT HER WINDOW TWENTY MINUTES PRIOR TO CALL AND IS NOW HEARING POSSIBLE MOVEMENT OUTSIDE HER RESIDENCE.
CHECKED OKAY BY OFFICER, MOVEMENT WAS A SKUNK IN HER BACKYARD.
003 : no report taken
10/02/2019
Threats Or Harassment
CALLER REQUESTING AN OFFICER DUE TO
HARASSING HIM. CALLER STATED THE MALE WAS HITTING ON HIS WINDOWS.
DRIVING AROUND IN A PT CRUISER
NO REPORT TAKEN – NO THREATS MADE.
002 : clear with report taken
003422
10/02/2019
Theft
CALLER REQUESTING AN OFFICER DUE TO
BROUGHT IT BACK. BORROWING A BICYCLE AND HAS NOT
REPORT TAKEN.
002 : clear with report taken
003421
10/02/2019
Theft
369.0 E MAIN ST, CIRCLEVILLE, OH 43113 L01 A01 JP02
CALLER REQUESTING AN OFFICER DUE TO A DECORATIVE 6 FOOT VINE TREE BEING STOLEN OFF OF HER FRONT PORCH.
REPORT TAKEN.
Theft
CALLER ADVISED SHE HAD A TELEVISION IN THE BACK OF HER VEHICLE AND SOMEONE STOLE IT
REPORT TAKEN
010 : call handled; person advised
10/02/2019
Suspicious Person
CALLER ADVISED A MALE AND FEMALE WERE SEEN WANDERING THE NEIGHBORHOOD AND THEY ARE NOW SITTING BEHIND THIS RESIDENCE AND DO NOT LOOK AS IF THE APPEAR TO BE ALLOWED THERE. MALE IS WEARING A RED SHORT SLEEVE TSHIRT AND HAS A BEARD AND THE FEMALE MAY HAVE BLINDE HAIR BUT IS WEARING SHORTS
HOMEOWNER
AND
HAVE BEEN ADVISED SINCE WE CANT VERIFY WITH
THAT THEY HAVE PERMISSION TO BE THERE THEY MUST MOVE ALONG
ALLOWED ON THE PROPERTY
OWNER OF THE PROPERTY CALLED AND ADVISED THESE TWO SUBJECTS AR
Suspicious Vehicle
  OFFICER MARKED OUT WITH A WHITE TRUCK WITH NO LETTERING ON THE SIDE NEAR THE FIELD HOUSE CHECKS OKAY- WORKER DOING ESTIMATES
 001 : clear with no report
     10/02/2019
Parking Complaint
  MARKED OUT REGARDING A PARKING COMPLAINT
 VEHICLE HAS BEEN MOVED OUT OF THE ROADWAY
THEFT
OHIO HEIGHTS APARTMENT COMPLEX 590.0 E OHIO ST, CIRCLEVILLE, OH 43113 L03 A01 RM01  CALLER ADVISED OF A MALE WEARING A SCRUB HOSPITAL SHIRT JUST WALKED INTO HIS HOUSE AND STOLE HIS GOLD NECKLACE THAT WAS LAYING ON A STAND, MY CALLER HAD TAKEN THE NECKLACE OFF AS HE WAS WORKING ON HIS CAR WHEN THIS GUY JUST WALKED UP INTO HIS YARD AND THEN INTO HIS HOUSE
REPORT TAKEN- ARREST MADE ON BENJAMIN BURCHETT
Well Being Check
REQUESTING ON A WELLBEING CHECK ON A FEMALE INSIDE OF A PARKED CAR NOT MOVING
SHE CHECKS OKAY- SHE IS WAITING ON HER BOYFRIEND IN COURT
WARRANT
REPORT TAKEN- WARRANT ARREST MADE ON JOSEPH HASHMAN
Found / Recovered Property
 CALLER FOUND A DRUG PIPE IN HER YARD AND WANTS IT DISPOSED OF ITS BEEN DISPOSED OF
Suspicious Person
THE HOTEL RECEPTIONIST GOT A CALL FROM THE PERSON WHO RENTS # AND SAID SHE HAS A FRIEND THERE RIGHT NOW AND THE FRIEND SAID SOMEONE KEEPS TRYING TO GET INSIDE OF THE ROOM AND TURNING THE DOOR KNOB ARREST MADE ON CAITLIN FAYE CONKEL FOR A WARRANT OUT OF THE PICKAWAY COUNTY SHERIFF'S OFFICE. PCSO UNIT RESPONDED TO SCENE AND TRANSPORTED PRISONER TO THE PICKAWAY COUNTY JAIL. REPORT TAKEN.
Assault
 CALLER ADVISED SHE JUST SERVED HER 30 YO SON EVICTION PAPERS AND HE HAS SPIT ALL OVER HER.
 REPORT TAKEN.
 005: Unable to Locate
Drunk
CALLER REQUESTING AN OFFICER DUE TO TWO HOMELESS SUBJECT DRINKING WHILE RIDING BICYCLES. REPORTEE ADVISED THEY HAD OPEN CONTAINERS NEAR THE AREA OF THIS BUSINESS. REPORTEE ADVISED THEY SAW AN OFFICER ROUND THE CORNER AND TOOK OFF IN THE ALLEY LEAVING BEHIND A BACK PACK. SUBJECTS WERE DESCRIBED AS A TALL AND SLENDER MALE AND A FEMALE WITH PINK HAIR. SUBJECTS LAST SEEN IN THE AREA OF THE FISHER'S ACCESS BY THE SCIOTO RIVER.
 UNABLE TO LOCATE BACK PACK. CALLER DIRECTED TO PCSO REFERENCE SUBJECTS BEING OUT AT THE FISHER'S ACCESS.