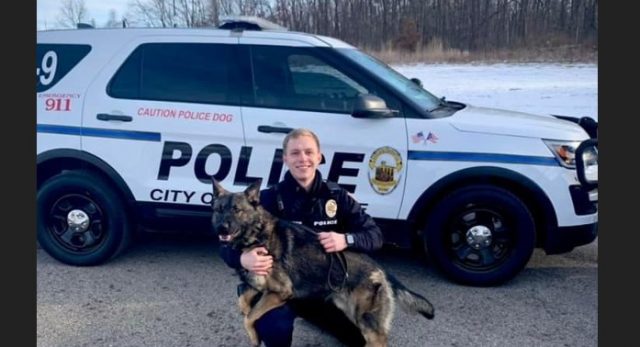 CIRCLEVILLE – A new K9 on the force was instrumental in a recent bust in Circleville.
According to Circleville Reports on 4/08/22 Officer Salyer had initiated the stop for a plate light out on a White Oldsmobile at East Main Street in Circleville, during the stop he was informed by probation that one of the persons in the vehicle had just recently committed a drug offense. I asked if there were any narcotics on them or in the vehicle. Both stated no
K-9 Dexter aka "Dex" and his handler, Officer Timothy Sanford were called to the scene of a traffic stop for a, "free air sniff" around the vehicle. K9 Dexter alerted at the passenger window seam. The vehicle was searched along with the driver which Methamphetamine was recovered on her person
1.2g of meth in a clear plastic bag, a Meth pipe, a cut-up straw and container with meth residue, and Red cut straw with meth residue were collected for evidence.
Tammy Claytor, 52 of Circleville was arrested and charged with possession of dangerous drugs, and drug paraphernalia.