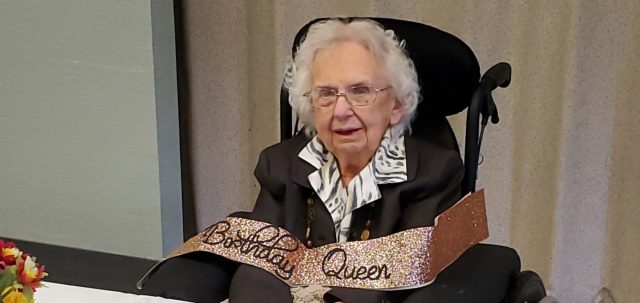 Circleville OH- Rosemary Ann (Schreiner) Hunsicker passed away Sunday, October 3, 2020.  She had celebrated her 100th Birthday this year.  She was born February 3, 1920 in Circleville, Ohio to Edward A. Schreiner and Flora Schreiner.
She was preceded in death by her husband Clark K. Hunsicker Jr., her parents, and her sisters Doris (Ralph) Cloud and Christine (Leo) Morgan and brother Charles Edward.  She is survived by sons Clark K. Hunsicker III and Edward (Ed) A. Hunsicker of Clarksburg, Ohio.  Also survived by sister Mary Schreiner and brother Ned (Faye) Schreiner and numerous nieces and nephews.
After graduating from Circleville High School she attended a business school in Chillicothe.  Rosemary then worked for the Telephone Company and later the J.C. Penney Company retiring from there where she worked in the office.  She was a member of the Trinity Lutheran Church and the Williamsport United Methodist Church.  She loved music and had a beautiful voice.  Rosemary was active in the Williamsport Community belonging to the Sorosis Club, the Child Study League, the "Golden Girls" canasta club and the Garden Club.
Arrangements have been made with the Wellman Funeral Home, Circleville and a private graveside service will be held at a later date.  The family would like to thank Berger Hospital, Logan Elm Health Care Center and Heartland Hospice for their wonderful care of "Miss Rosemary".  Online condolences can be made to www.wellmanfuneralhomes.com.