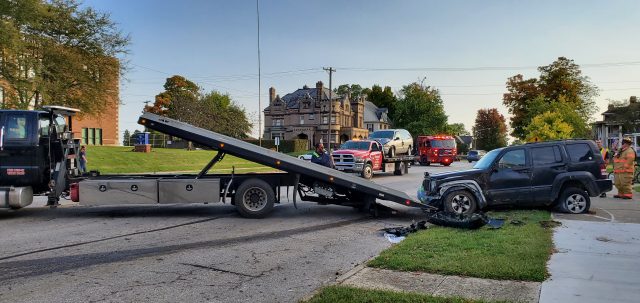 Circleville OH- A rollover crash involving a parked minivan and a Jeep SUV occurred just before 5:00P.M. on Tuesday, October 6th, 2020 on Court Street.
A Jeep SUV was traveling north on Court Street at a high rate of speed according to witnesses when the driver lost control went across the south bound lanes, striking an unoccupied parked minivan. The impact was significant enough to cause heavy front end damage to the minivan and pushed the van across all four lanes of Court Street, coming to rest on the north bound curb in front of Everts Hill Apartments.
The Jeep SUV rolled over onto the drivers side, trapping occupants inside until help arrived in the form of good samaritans from a landscape company. There were four total occupants in the Jeep SUV, two adults and two children who were all transported by squad to Berger Hospital. The extent of their injuries are unknown at this time and no names or cause for the crash has been released.