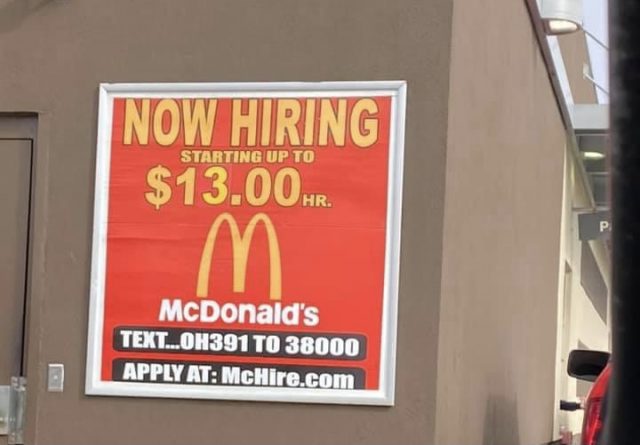 CIRCLEVILLE – There are more jobs than people are willing to take them, this issue comes as many businesses are trying to staff up for the holiday season.
Local Circleville Mcdonalds has upped their pay from 10 dollars an hour only a few years ago to 13 today. Racks and White Castle in the area already pay 15 bucks an hour.
If you drive around Pickaway county you see signs in front of most fast food companies looking for employees. Recently Dollar General in South Bloomfield closed down for a short time to fix a staffing issue and customer complaints on freight down isles.
Walmart has announced they're looking for 20,000 seasonal associates across the country. Kohl's is looking for 90,000 employees for the holiday season.
More pressure will come to fast food as holiday shopping increases.
Ohio cut federal benefits in hopes of driving people back to work but that's not the only deciding factor in shortages. Early retirement sent aging out Ohioans out of the job market, fears of COVID-19, Child care needs at home, mismatch of skills between workers and jobs, changing career interests, and many people opening small businesses.
Ohio has reported record numbers of new businesses applications over the summer as many starts working for themselves.
As we prepare for the holiday rush and you are in line for food, remember that shortages are frustrating, but the people who are at the jobs are not this issue it's the ones that are not, be kind.