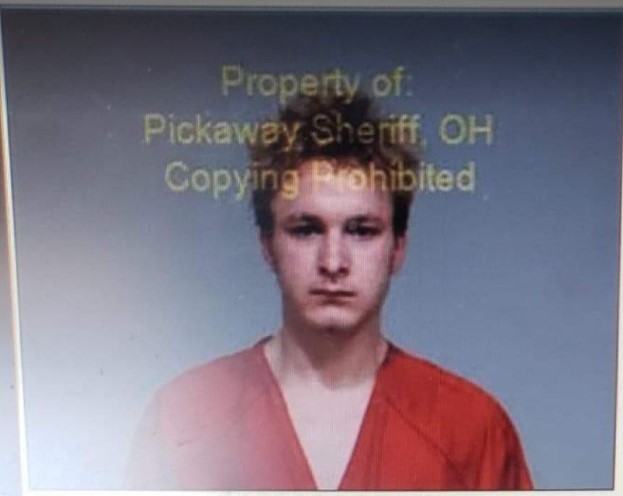 CIRCLEVILLE – A Circleville man was arrested after being belligerent with Circleville Police officers after a domestic situation.
According to the Circleville Police department on 2/27/22 they were called to the scene of an active fight in the 300 block of Walnut street. When they arrived they found a man identified as Anthony Thompson, 18 was in a domestic altercation with family members and was intoxicated. During the investigation of the domestic Thompson became erratic and did not listen to commands. When officers decided to take Thompson into custody for not listening to commands he started to fight them. In the report, officers reported what happened next:
When placing Anthony under arrest he would tense up and we had to place him against the door. We were able to get Anthony into handcuffs and when attempting to place him in the cruiser he would resist. Anthony then was placed in the cruiser and he tried to wrap the seat belt around his neck. I then got in the back of the cruiser and pushed him to the other side. Officer Harrell then was able to get ahold of Anthony after he already tried to exit the cruiser again. Officer Harrell then was able to assist Anthony back into the cruiser and when doing so, Anthony started to kick and kicked me, Officer Salyers in the face. After getting him to turn around in the seat Anthony proceeded to kiss me on the side of my mouth. I was able to after that get Anthony in the cruiser and had Officer Harrell drive my cruiser to the jail while I restrained Anthony in the back.

Anthony will be charged with Domestic Violence, Assault on a Peace Officer, Sexual Assault, Obstruction, resisting arrest, and underage consumption.
UPDATE: The charge of Sexual assault after kissing one of the officers on the mouth was dropped later on