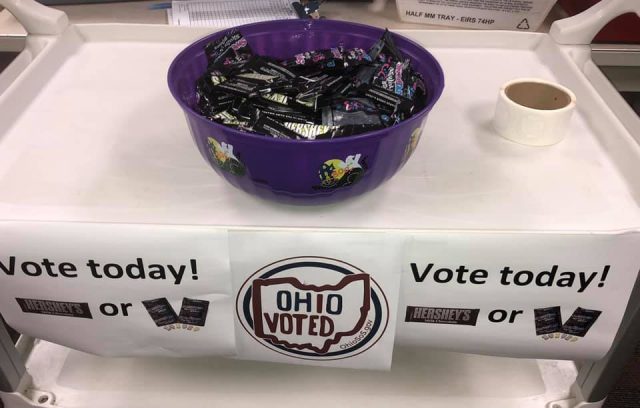 CIRCLEVILLE – Pickaway Board of the election had an election that the children could be involved in, chocolate or Sweetarts.
The election ran with the Downtown business trick or Treat that ran from 5-6 on Wednesday night.
The idea was a fun idea that the election office came up with while one of them was getting candy from Krogers.
On the table, kids got to decide (Vote) for their favorite candy the choices Hersey's chocolate or sweet tarts.
"This was fun for the kids and it also promotes early voting and reminds people that we have an election on November 2," said John Howley Deputy Director.
"Chocolate won handly over the sweet tarts, we started with 160 Hersey bars and 176 sweet tars, we ran out of chocolate in 15 minutes and ran out of sweet tarts about 5 minutes after that. Next year we just need to buy more candy."
November 2 is the general election for several positions in the county and state more info here: https://www.boe.ohio.gov/pickaway/about-us/