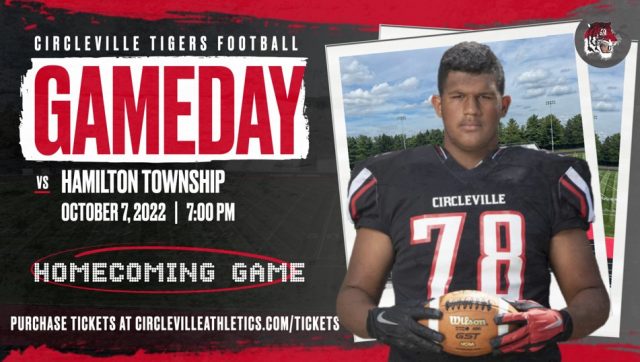 Circleville – Fridays Homecoming will have a change in events that is not typical.
According to Circleville City Schools Athletic Director Brandon Wright Friday's Homecoming Festivities will be performed prior to Kickoff.
"Traditionally, we have always held the crowning of our King and Queen at halftime which has made it difficult for our football players to be involved," said Darci Valentine of Circleville City Schools, "This year, we have a King candidate that is on the football team, so we felt it would be nice for him to be able to be involved and then in turn, allow this to continue in the future."

The homecoming events will start at 6:29 on Friday with the pregame announcement. Gates will open at 6 pm. At 6:32 Homecoming events and festivities will start.
6:00 PM – Gates Open for Game
6:29 PM – PreGame Announcement Script
6:30 PM – Coin Toss
6:32 PM – Begin Homecoming Festivities
6:44 PM – Introduction of Circleville Cheerleaders
6:44 PM – Band moves to PreGame Formation
6:45 PM – Band Plays National Anthem
6:48 PM – Band Plays Alma Mater
6:50 PM – Band Plays "Hang on Sloopy"
6:52 PM – Band forms tunnel for Football Entrance
6:53 PM – Hamilton Township Takes the Field
6:54 PM – Enter Sandman Begins
6:55 PM – Circleville Takes the Field
7:00 PM – Kickoff
Tickets to the homecoming game are limited so make sure to grab them before Friday to make sure you get a seat. You can get the tickets at Circlevilleathletics.com/Tickets
Go Tigers!