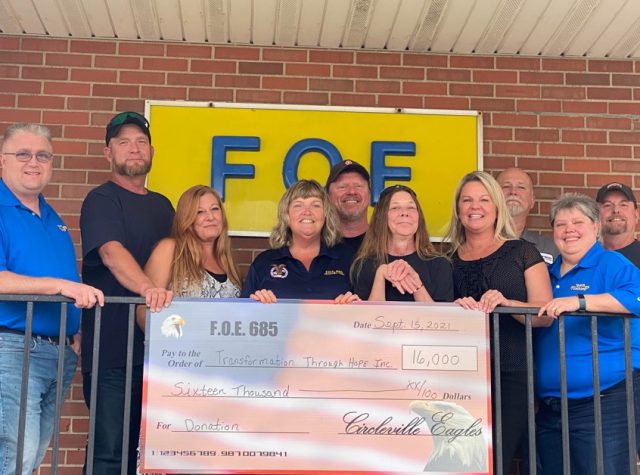 CIRCLEVILLE – Circleville Eagles F.O.E. 685 is aiming charity funds towards fighting homelessness in Pickaway county.
The Eagles use their annual charity fundraising event 7th annual Ray Crawford Memorial golf outing to raise 16,000 dollars for Transformation Through Hope a nonprofit that helps improve the quality of life for those less fortunate in Pickaway County.
The event had a total of fifty-seven teams of four, on a two-day event at Pickaway Country Club on August 18th and 19th.
" We always try to pick a local charity, to keep the funds locally. The homeless issue in Pickaway county is a major issue. This money will help Transformation through Hope open a free store, and help people move from homelessness to living a quality life," said the Eagles.
Michelle Kovach representative from Transformation for Hope, "says that they will use the money to help renovate a permanent space for the charity, or possibly buy a duplex to try to provide housing for two different people. Currently, we have a free community event every quarter, we are providing kids with school shoes, even bought a man a pair of pants this week that he needed. Simply helping out whatever way we can in the community."
Transformation for hope plans to have a warming station this winter much like they did last year when temperatures drop below 32 degrees.
More info on the charity click here: https://www.facebook.com/Transformationthroughhope