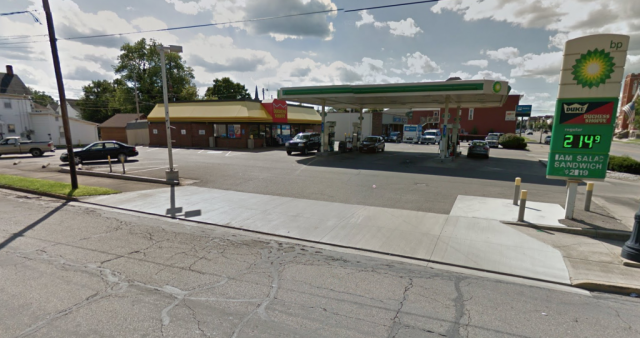 CIRLCEVILLE – During last nights Circleville Committee of the Whole meeting City Council heard again plans for Englefield Oil (Duke and Dutchess) to expand their 35 year business into a larger facility within the City limits of Circleville. This again came with some pushback from one Council Member concerned about the historical area of the station, and concerns about groups staggering growth from Circleville Mayor Don Mcllroy.
During a recent meeting Architects from Wachtel & McAnally explained a plan to demo the old Pittsburg Paints location at 221 East Main Street and expand the station into that lot combining the two. The site plan calls for a increased store size, more gas pumps, and new curb cuts that is aimed at more safety for entering and exiting the location.
The plan though has came under pushback from several different entities, including Uptown Circleville, Members of the Board of Zoning and Appeals, and Councilwoman Sheri Theis. All concerns were based on the location being close to the historical district of Circleville Downtown and how the 35 year old business would fit into the area after expansion.
Uptown asked the store to mimic a look much like CVS did a few plots down from the gas station after they bulldozed several historical homes and built a new location on East Main and Pickaway.
"Council has the opportunity during this discussion to set a benchmark to what the downtown of Circleville will look like. Preserving the look of Circleville downtown and the Historical integrity of downtown. We have a lot of the mid century buildings going on, it would be ill-advised to plop a suburban style building in the middle of an historical district, to keep in context of the neighborhood. Just to try to maintain the consistency of form and style in the area."
Members of the BZA during last meeting said they were concerned on letting a non-conforming entity expand in a area that's not in a overall plan for the area.
During last nights meeting Councilwoman Sheri Theis said that the gas station does not fit the comprehensive plan for downtown business. Councilwoman Katie Hedges rebutted saying that the location has been a gas station for more than 35 years and will remain a gas station even if this rezoning fails to go through, the only difference is if we get an aging gas station or a new facility with newer safety features.
Theis said that the current zoning is in place and intended to eliminate non-conforming uses like gas stations. "This is accomplished by limiting expansion of a non conforming facility, gas stations are not desirable downtown, certainly bigger gas stations are not also." Theis then mentioned that years ago downtown Circleville had five to six gas stations and they have slowly been eliminated.
Councilwoman Katie Hedges rebutted a second time saying that she has a hard time understanding why this doesn't fit into the criteria, "its going to be a gas station, its a gas station now and will be a gas station in the future, they are suggesting to improve it."
Mayor of Circleville Don Mcllroy mentioned that he feels that several things are staggering business growth in our community and creating a toxic environment that may eventually turn business away. He explained this in a 30 minute conversation with council below.
Council said that they would move forward with the rezoning and passed the rezone to council with recommendation for passage with 6 of the 7 council members in favor, Sherri Theis was the only member to vote against moving forward for change in zoning.
According to Duke and Duchess if plans are approved they expect to break ground on the new project by spring of next year and finish mid summer based on weather. Read the plans for this new project here: http://www.sciotopost.com/duke-duchess-plan-gas-station-expansion-push-back-neighbors/