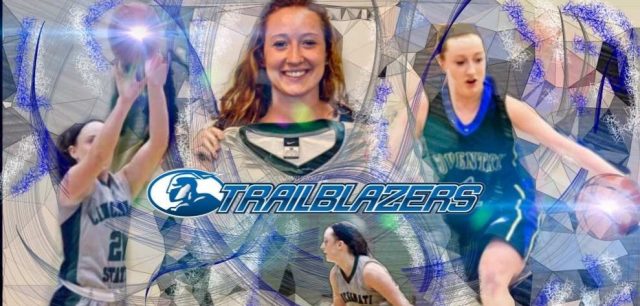 CIRCLEVILLE, OH – Chloe Baird is the newest addition to OCU women's basketball.  She comes to the Trailblazers fresh off of a two year stint at Cincinnati State where she helped lead the surge to the NJCAA National Tournament in March of 2017.  Baird, who is originally a product of Coventry High School in Akron, Ohio signed her letter of intent on Friday to officially become a Trailblazer.
In high school, the 5-foot-6 Baird averaged team highs of 16.5 points and 6.1 assists per game as a senior for the Coventry Comets.  She would go on to be named a First Team All-District selection while also taking home All-Ohio honors.  At the conclusion of her prep career, she tallied a game-high 17 points to lead Summit County to a victory over Stark County in the Plain Rotary All-Star Classic.
In junior college, Baird enjoyed a successful career at Cincinnati State.  As a freshman she helped lead the Surge to the Regional Finals as she took home 2ndTeam All-OCCAC honors.  In her sophomore campaign, she helped propel Cincinnati State to an upset win over Owens Community College to earn a 2017 NJCAA National Tournament bid.
"Chloe is a mentally tough player that has great court vision and is a natural playmaker," said head coach Jamey Batten.  "We are really excited about adding her to our squad and we feel like she is a great fit for both who we are as a team and how we play basketball." Baird will major in Teacher Education.
For more on the Lady Trailblazer Basketball program and the rest of OCU Athletics, follow us on Twitter (@OCUtrailblazers), Facebook (Ohio Christian University Trailblazers), and YouTube (Ohio Christian University Trailblazers)