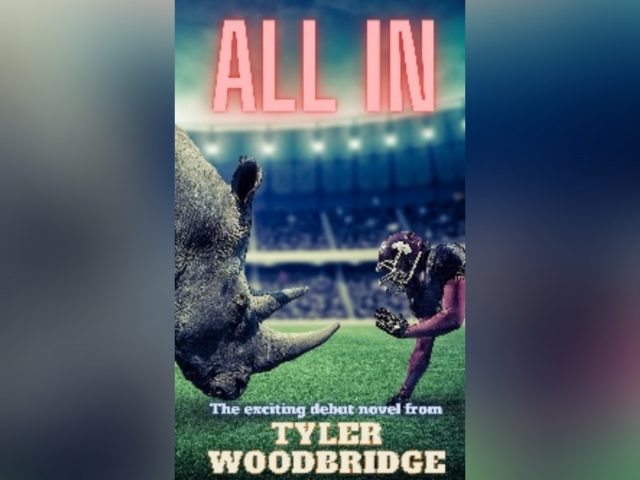 Chillicothe Native Publishes Surreal Heist Thriller Grand Theft Auto: Flavortown? He's Lived It.
MURFREESBORO, TENNESSEE, 6/22/21 – Many artistically-inclined folks have started, worked on, and completed passion projects during the COVID-19 pandemic. For Tyler Woodbridge, his self-published debut novel was over a decade in the making.

During the Great Recession, Woodbridge bounced between service and factory jobs in Southern Ohio, often going months at a time without reliable income. To supplement (and, at times, serve as) his income, he operated a Texas Hold 'Em Poker gambling ring in Ross County. These games drew all kinds of people with varied personalities and professions, some of which were less-than-legal. These interactions and their associated adventures percolated in Woodbridge's head throughout his decade-long slog out of borderline poverty and into a more comfortable life in Middle Tennessee, and gradually leaked out into a word processor along the way. The result is ALL IN, a dynamic Heist Thriller set in Columbus, Ohio, inspired by Woodbridge's poker drama and peppered with references to pandemic-era political strife.

Among early reviews, Iowa writer Elizabeth Ridge has lauded ALL IN as "recklessly entertaining – as if I were reading the next Grand Theft Auto plot line." Indeed, the high-stakes drug heists, absurd yet vivid and believable characters, and profane dialogue recall GTA, as well as modern TV dramas such as Breaking Bad and Ozark.

ALL IN can be purchased on eBook and paperback via Amazon, and is available at no cost for Kindle Unlimited subscribers. Interested readers can also make requests to their favorite libraries and bookstores to carry ALL IN.

Tyler Woodbridge is a writer, political activist, and marketer. Born in Chillicothe, Ohio and currently residing in Murfreesboro, Tennessee, he is most well-known for authoring the viral petition "Change the name of Columbus, Ohio to Flavortown," which boasts 130,673 signatures at the time of this writing. Woodbridge has also released a lyric compilation, Down From Carlisle, and has volunteered for several political causes and campaigns. His first job was portraying a minor league baseball mascot for the Chillicothe Paints, and his first love was writing comedic stories for anyone inclined to read them.