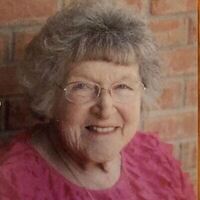 Chillicothe OH- Lois J. Dean, 97 of Chillicothe, formerly of Columbus went home to be with the Lord, along with a number of family members and friends, Thursday, December 31, 2020.
She was born August 13, 1923 in McArthur, OH to the late Rev. G. C. and Zelma (Seitz) Johnson. On December 24, 1945 she married Paul W. Dean who preceded her in death.
Lois is survived by children and spouses: David (Connie) Dean of Circleville, OH; Marilyn (Denver) Dodrill of Albany, OH; Jeannette (Daniel) Swetnam of Westerville, OH; grandchildren: Heather (Jason) Dooley; Michelle (Jeremy) Hawk; Jonathan (Emily Heitzman) Dodrill; Jeremy (Ashley) Swetnam; Laura (Joel) Waymack; Andrew (Jennifer) Swetnam; 10 great-grandchildren with 2 more coming in 2021. She is also survived by brother Owen (Joyce) Johnson. In addition to her parents, brothers Paul V. Johnson and Meredith Johnson predeceased her.
Lois graduated from Columbus South High School as the valedictorian of her class and attended Columbus Business College. She worked as a secretary for several years in law offices and at Capital University. The love of her life however, was church music. From a young age, she played piano in many churches, traveled with the Christian 4 Quartet, and served along with her husband as worship leaders and choir directors in a number of churches. In retirement, she and Paul traveled and served as short-term missionaries in various mission fields. She was a member of Chillicothe Brookside CCCU Church where she was involved in the music and food pantry ministries.
Funeral service will be held at 7pm Tuesday, January 5 at Brookside CCCU Church, 2215 Egypt Pike, Chillicothe with Rev. David Dean and Rev. Denver Dodrill officiating. Due to Covid protocol we are not having calling hours prior to the service and those wishing to pay last respects may do so following the service. For those attending in person, masks and social distancing are required. The service will also be live streamed through www.brooksidechurch.com. Use the button to "Watch Live".
In lieu of flowers, donations can be made to World Gospel Mission through the Churches of Christ in Christian Union, Missionary Department, 1553 Lancaster Pike, Circleville, OH 43113. The family would like to thank the staff at National Church Residences of Chillicothe for their loving care of our mother the past several years. Graveside service will be held at 12:15pm Wednesday in Sunset Cemetery, Galloway