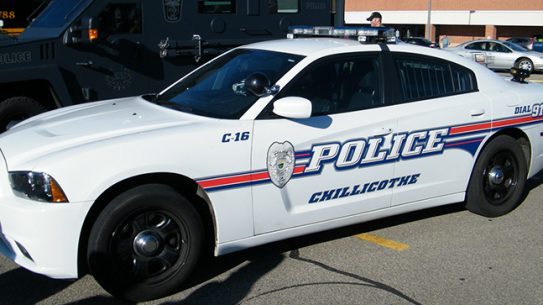 CHILLICOTHE – A man jumped off his bicycle and ran from police after an investigation was launched into stolen items.
According to the Chillicothe police department, while on patrol observed a male subject pulling a cart full of miscellaneous items on a dolly behind a bike out of a garage in an alleyway between Jefferson Ave. and Madison Ave. when the officers stopped to ask some questions he ran away and hid from the officers. When officers attempted to find him he fled on foot, a short foot pursuit occurred the subject ran across Jefferson Ave. and continued running southbound toward Adams Ave. when police caught up to the fleeing subject behind Jefferson Ave. Christian Union Church, and ordered him to the ground. The male subject laid flat on the ground and was detained.
The male subject was identified as Ryan Mitchell, who was checked in LEADS and found to be wanted on an IBA warrant through the Chillicothe Police Department for domestic violence through the Chillicothe Police Department, Obstructing Official Business, and Possession of Drug Abuse Instruments.
During the search of the man police found, a syringe was found inside of the front-right pocket of a pair of sweatpants that Mitchell was wearing. A plastic bag containing crystal rock substance was found inside of the
front-left pocket of the same pair of sweatpants. At the time Mitchell's person was searched, he was wearing three pairs of pants. These items were found in the pockets of the base pair of pants that Mitchell was wearing.
On the cart that was on Mitchells, bike police found a welder, torch, and a salamander heater which were confiscated pending an investigation into breaking and entering charges.
Possession of drugs charges are also possible after BCI chemical analysis