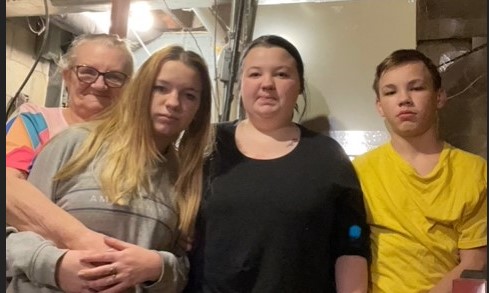 PORTSMOUTH – A Chillicothe company held an annual holiday giveaway donation in the Pike county area looking for someone in immediate need.
"At Christmas, we celebrate God giving His greatest gift of Jesus to the world, Accurate Heating & Cooling and Bryant want to share in this spirit of giving as well. We will provide and install one heating system to a local family in immediate need. Please complete the form below and include an explanation of the heating need and how the system would make a difference."
To ensure that the information about this generous opportunity was shared with as many people in need as possible, Adam Days delivered the application to the CAC's Social Services staff. Karen Minney in Social Services assisted with sharing the information with the Weatherization Program, Housing Program, and others.
The application found its way to the desk of CAC's Social Worker, Annya Thompson, who knew of a co-worker, Mary Hablitzel, that was in dire need of a new furnace. Mary's furnace had abruptly stopped working a few months prior leaving her family to rely on space heaters and the gas cook stove to heat her house. Out of fear for the family's safety and well-being, Annya completed the application on Mary's behalf in hopes of finding assistance for Mary and her family.
Days later, Mary received a call from a representative at Accurate Heating & Cooling to congratulate her on being chosen to receive a new heating system unit and to schedule a time for a technician to visit her home to inspect the current furnace and heating structure. During the inspection, the technician explained to Mary that not only was the furnace unrepairable, but also explained how fortunate she was that the furnace had an automatic shutoff valve. He further explained that the gas was entering the wrong chamber which could have easily resulted in a severely life-threatening situation (fire or carbon monoxide poisoning).
The technician left her home that day and returned two days later with the new furnace and installed it that day. The Hablitzel family is very grateful to Accurate Heating & Cooling and fellow CAC team members who were able to make this holiday season one of the warmest and kindest that the family has known proving that generosity of others is the greatest gift of all.
The CAC staff would like to thank Accurate Heating & Cooling for their generosity to the Pike County community throughout the year and appreciation for their partnership with making this opportunity available for those in our area that are in need.