Councilman Devon Shoemaker and councilwoman Kathy Payne talked about potential growth plans for the city of Chillicothe to the Scioto Valley Real Estate Investor Association during their monthly meeting held at a local church this month.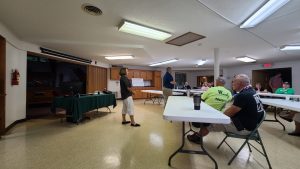 One of the ideas brought forth was possible planning that could be utilized in the future to sell and develop land that the city owns for additional housing, business or economic development that might be currently under utilized as raw land. The council people made note that there is about 12 acres of land that is mostly under utilized off of Riverside drive in Chillicothe, near Yoctangee Park that could be sold for development purposes to help expand what's becoming a fast growing downtown in Chillicothe.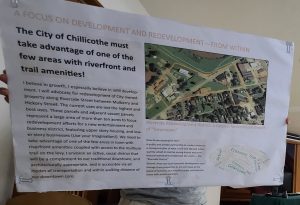 Above is a property layout that councilman Shoemaker presented that might be viable for developers and pitched the idea to the investors present at the meeting.
Additionally, plans for allowing two way access on East Second Street was talked about. This has been a very hot topic on both social media and in council meetings as east 2nd has been a one way street for decades.
As well as the 2nd street project the extremely contentious water deposit issue was talked about. The landlords of the investor group voiced their opinions and concerns about the city of Chillicothe's efforts to place the burden of paying unpaid water bills upon landlords. According to the council people present, the bill looks to be in the last stages of voting or being dropped entirely.