9:15 PM UPDATE — We continue to gather new information about the ongoing fire tonight in Fulton County, OH. Here is some of the newest information we have:
City of Delta – The Water Superintendent is asking residents to cut down on any unnecessary water usage as the amount of available water is running very low. There are several departments bringing in water along with tankers to assist in fighting the fire. Water is being brought in from numerous other departments in Northwest Ohio and Michigan.
Michigan Helping – There are multiple fire departments from Michigan bringing water and aiding in the fighting of the fire. Morenci, MI was one of the first out of state departments on scene. All in total there are up to 25 departments that are battling the 6-Alarm Fire tonight, including ALL fire departments in Fulton County, OH.
180th Air National Guard – The Air National Guard has been called in to assist with fighting the fire, which will likely continue for several more hours.
Weather – With a decent breeze tonight, it is adding difficulty to the firefighting efforts. Winds should lighten some gradually overnight, but it will remain an issue until winds lighten up more.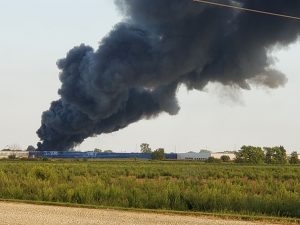 DELTA, OH — A massive fire in Fulton County, OH has led to a massive response from over a dozen fire departments, and reportedly a foam plane from Toledo Express Airport. The company is called Metal X and is relatively new. A large pile of metal scrap is on fire currently. The facility is located near Delta, OH off of State Route 109.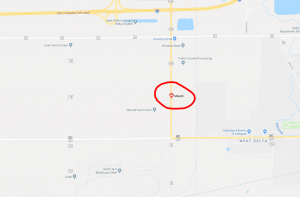 Numerous fire departments from the county and even from Michigan are fighting the blaze as we speak. This is a developing story.
As of right now we do not have any reports of injuries or anyone trapped inside the blaze.
Scioto Post is continuing to follow this story, and we will bring you more details in this story as we know it!