Bella Liggett is growing a giant pumpkin, and it's the only Liggett pumpkin left for this year.  Dr. Liggett, Bella's grandfather and multi-year winner of the largest Pumpkin at Pumpkin Show, lost his pumpkins earlier this season due to a disease that affects the stem. Bella took the initiative to cover and protect the stem of her pumpkins when Dr. Liggett did not.  "She has her pumpkin because of her own intuition," said Dr. Liggett.
- Advertisement -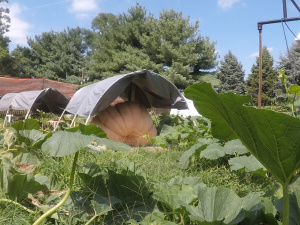 "My granddaughter planted the seed herself. She takes care of the pumpkin herself." said Dr. Liggett.  Bella Liggett is now enrolled in The Ohio State University. She is majoring in Forensic biology and minoring in Forensic science. Bella said, "I was curious about genetics with the pumpkins." I've worked in the patch with my grandfather for years, but growing my own has been much more challenging." This is Bella's first year growing a giant pumpkin by herself.
- Advertisement -
"I love being here with my grandmother and grandfather. Spending time with them is great." When asked why she decided to grow the pumpkin, she said, "I wanted to know why my grandfather wanted to grow them." Now she says she's attached, "Its fun; I would grow another one."
Dr Liggett said, "I'm very proud of my granddaughter."  He said he was very impressed with her care and her dedication to growing a competitive pumpkin.  "I might go bow hunting this year," Dr. Liggett explains. He usually cannot because of the extra care you have to do the last few weeks of the growing period.
"As long as I am able to, I will try to continue to grow," said Bella.  Bella named her pumpkin Luna. There is a new pumpkin competitor in town. I guess the pumpkin doesn't fall far from the…… vine.
- Advertisement -