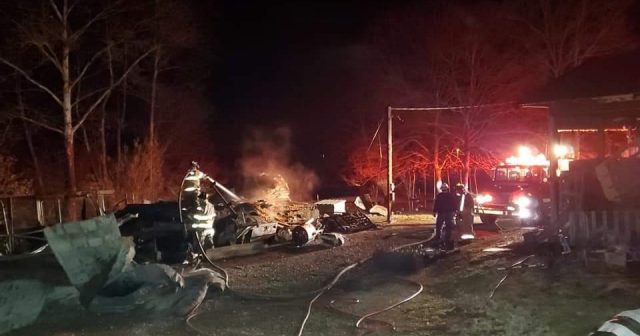 Bainbridge OH- There is an article posted by an online blogger "claiming" there was a fully engulfed house fire on Falls Rd, this is just not true. Unfortunately, the article has been shared 14 times at this point and has been read by a few hundred people at most.
The false information in the articles headline caused an unnecessary panic among the folks close to the family that owns the property at the address.
The fire reported Thursday evening was actually a barn that was owned by DJ Krivak. Though we have not spoken to DJ personally, we were able to reach out to the J216 Ministry and got a statement concerning the terrible fire and the amazing person DJ Krivak.
J216 Ministry said "DJ Krivak is a vital part of our food ministry. We feed over 6000 families a month in 32 different zip codes and 15 different counties. DJ travels to Columbus twice a week to pick up well over 30,000 pounds of food, he runs our warehouse and heads our team during distribution locally on Saturdays. He is also a foster Dad to 15 kids, 9 still live at home. Great man, big loss."
The J216 Ministry took to Facebook with this post informing friends of the ministry and DJ of the unfortunate event that claimed many items, including 4 tons of wood pellets used to heat the home.
We want to thank J216 Ministry for speaking with us and allowing us to report the true story.