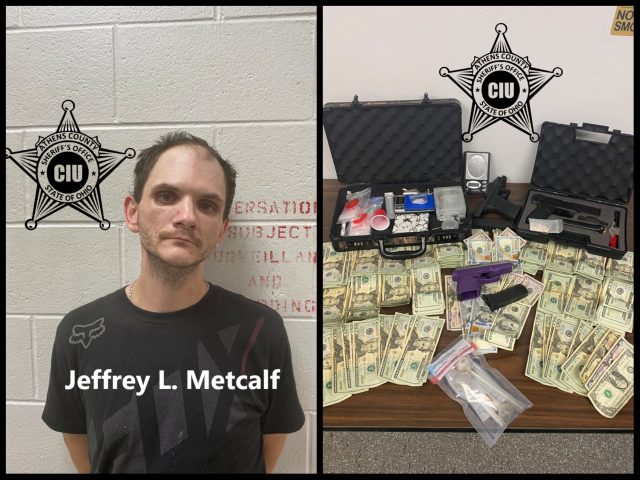 Athens County OH- On August 14th, 2020, The Criminal Interdiction Units conducted a traffic stop on US Route 33 near Carr Road in Nelsonville for a registration violation. Upon making contact with the driver and two additional passengers, criminal indicators were observed. Sheriff Smith states "Deputies identified the driver as Jeffrey L. Metcalf, age 30,of Guysville, whom had multiple warrants from Athens County.
Metcalf was asked to exit the vehicle, at which time Metcalf advised deputies that he had a pistol in his waistband. Deputies located and secured a loaded Glock 9mm from Metcalf and detained him. A further search of Metcalf produced three (3) glass pipes with suspected methamphetamine residue and a large amount of cash fromhis person."
A search of the vehicle yielded two (2) additional loaded firearms, suspected methamphetamine, digital scales, individual plastic baggies and additional cash. A total of $4,836 was seized during this traffic stop.
Metcalf was transported to SEORJ without incident and was charged with weapons under disability, a felony of the 3rd degree, improper handling firearms in a motor vehicle, trafficking in drugs and possession of drugs, all felonies of the 4th degree.
Additional charges are expected pending lab results.
Additionally, Sheriff Smith would like to acknowledge our Criminal Interdiction Units, Deputy D.J. McCollister, Deputy Joel Banks and K-9 Bora. "The hard work and dedication they continuously expend, is apparent and extremely vital in making our communities safer for the citizens of Athens County. Thank you for making a difference."