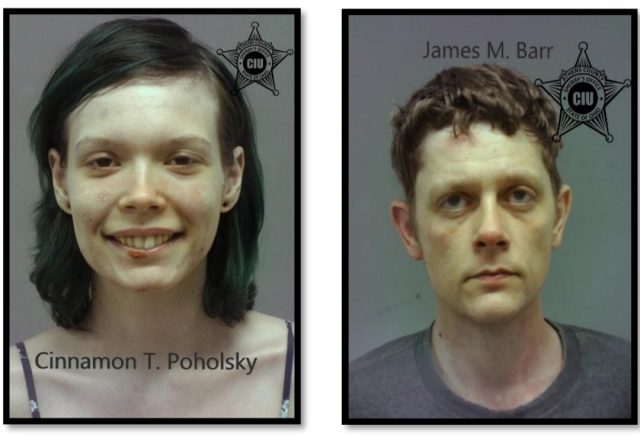 Athens County OH- On July 3rd, 2020, the Criminal Interdiction Units conducted a traffic stop on Route 33
for a head light violation. During the stop, criminal indicators were observed and a K9 was requested. Ohio State Highway Patrol responded and deployed a K9, which indicated on the vehicle.
A search was conducted of the vehicle and approximately 2.8 ounces or (80) grams of suspected heroin, suspected methamphetamine, and schedule 4 prescription narcotics were located and seized.
Sheriff Smith states that "James M. Barr, age 37, and Cinnamon T. Poholsky, age 20, both of Glouster, were arrested on aggravated possession of drugs and aggravated trafficking in drugs, both a first-degree felony.
Additional charges are being requested pending lab results. A $200,000 bond was requested for Barr and a $100,000 bond was requested for Poholsky."
The traffic stop comes also after a lengthy investigation into drug trafficking at a Martin Road, Glouster address. The Athens County Sheriff's Office would like to thank the Ohio State Highway Patrol and the community for their continued efforts to assist our office in the investigations of suspected drug sales.
The estimated street value of the seized heroin from this traffic stop is $16,000.