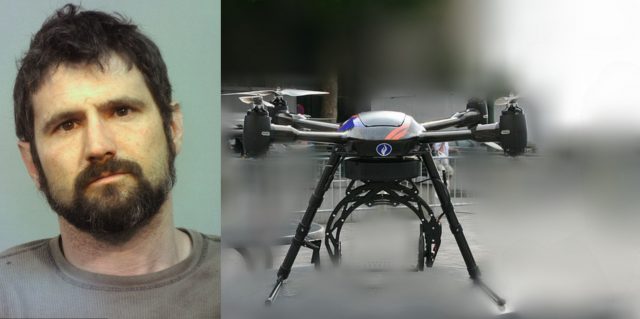 Athens County OH- Tuesday, November 3rd, 2020, The Athens County Sheriff's Office attempted to arrest Justin A. Pennington at a residence on Niggemeyer Road.

Pennington had multiple active warrants out of Athens County and when deputies made contact with him, he fled on foot into a wooded area.
At that time, Criminal Interdiction Units (CIU) arrived on scene and assisted in the search with the use of a small, unmanned aircraft system (UAS), commonly known as a drone. CIU quickly located the subject and assisted with the apprehension of Pennington in less than 15 minutes. Justin A. Pennington, age 34, of Guysville, was transported to SEORJ without further incident and held on his warrants.

In October, CIU assisted the Athens City Police by using the drone to locate and apprehend Rodney Shriver, who fled from APD officers into a wooded
area on Columbus Road. In 2019, The Athens County Sheriff's Office purchased the drone which is equipped with a thermal imaging camera by FLIR. This technology has been invaluable and instrumental in assisting with investigations, locating missing persons, the location and apprehension of fleeing suspects and more.
Additionally, units have the ability to attach various devices to the drone, such as a loudspeaker, floodlight and an emergency beacon light.

"The CIU would like to personally thank the Sheriff's Office in assisting units with new police tactics to assist in protecting the citizens of Athens
County. We could not succeed in our missions without their support. On behalf of the criminal element, you can certainly run, but you cannot hide."