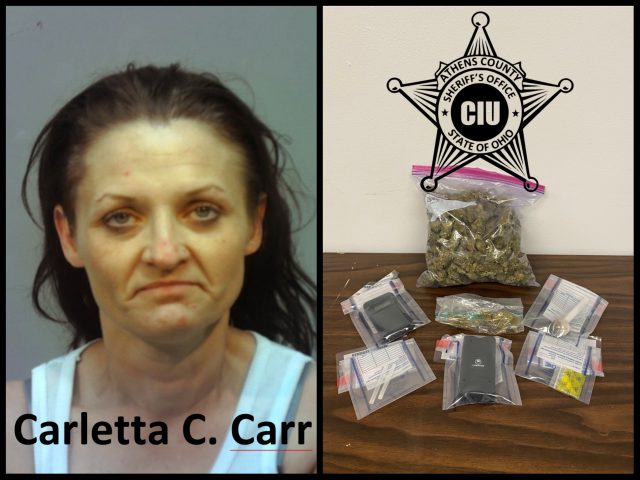 Athens County OH- On Friday, August 21st, 2020, The Criminal Interdiction Units conducted a traffic stop at
the intersection of Johnson Road and Ohio Avenue in The Plains.
Deputies made contact with a female driver, who appeared to be under the influence of illegal drugs, displaying erratic behavior. When asked to provide identification, the female accelerated away from
the deputy in an attempt to flee.
Units pursued the vehicle onto Ohio Avenue through the Oak and Elm Street intersections at speeds exceeding 60MPH. Eventually, the vehicle ended up on State Route 682 where speeds of 75 MPH were reached. The pursuit of the vehicle ended on Oak Street in The Plains, at which time, the female driver fled on foot. That female was quickly detained after a brief foot pursuit.
Carletta C. Carr, age 43, of Glouster, was placed under arrest and detained. A search incident to Carr's arrest yielded approximately (378) grams of marijuana, suspected methamphetamine, abuse instruments associated with methamphetamine, clear plastic
baggies common with trafficking drugs and digital scales. Carr was also found to have active warrants for her arrest out of Athens County.
Carr was transported to SEORJ without further incident, and booked on the following charges; failure to comply, a felony of the third degree, two (2) counts of trafficking in drugs, felonies of the fourth degree, and two (2) counts of possession of drugs, also felonies of the fourth degree.