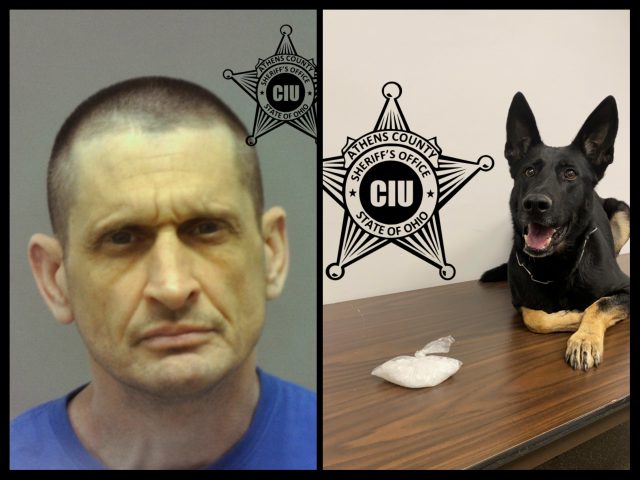 Athens County OH- On November 24, 2020, the Criminal Interdiction Units (CIU) along with the Sheriff's Office Special Response Team (SRT), executed a search warrant at 181 W. Canal Street in Nelsonville. This warrant came after a lengthy investigation into suspected drug trafficking.
Upon arrival, persons attempted to flee from units, however, they were quickly detained. Units immediately began their investigation and recovered approximately 4.9 ounces (137 grams) of suspected methamphetamine, which is 45 times bulk amount. The bulk of the methamphetamine was found on the roof of a shed, which was thrown by a suspect in an attempt to conceal. Additional items recovered included digital scales, packaging materials, abuse instruments related to methamphetamine and suspected heroin.

Barry Dean Hurst, age 47, of Nelsonville, was arrested and charged with trafficking in drugs and possession of drugs, both felonies of the 2nd degree, and tampering with evidence, a felony of the 3rd degree. Additional charges are likely pending lab results.
Sheriff Smith states "I am extremely proud of the continuous efforts of the deputies working together to make our communities within Athens County safer. While we realize that our work will never be finished, we will not let up with our efforts to bring criminals and drug dealers to justice. A special "thank-you" to Nelsonville Police Chief, Scott Fitch, for your collaboration during this incident."