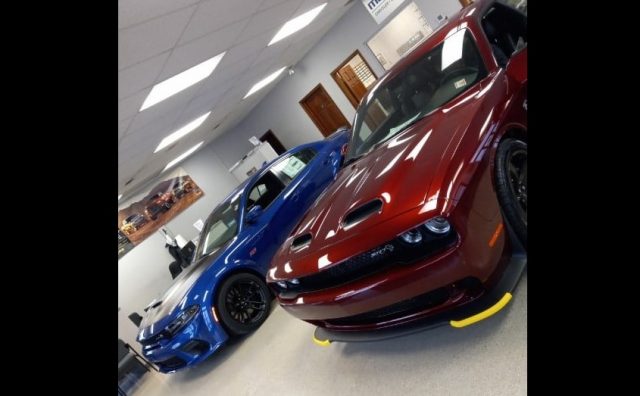 LICKING – We have heard the story before, car theft from dealerships aimed at dodge challengers.
Over the past month, three dealerships have been targeted with this kind of theft all surrounding Columbus. The first strike was from Hernstien Kia in Chillicothe Ohio of the theft of four new Dodge Challengers, three of those vehicles were recovered in the Columbus area.
It was only a few days later that another car dealership was targeted in Knox county Ohio, similar crime thieves gain access to the showroom by breaking a window, then they locate the keys to new sports cars and get out of dodge. Three males were caught on video that night, and they made off with two Dodge Challengers.
On Monday night another round of thefts this time in Licking County at the John Hinderer Chrysler Dodge Ram dealership, but they were caught in the act, and that led to two high speed chases out of the county, one leading to a crash and arrest.
According to the Health police department, one of the officers noticed a vehicle running at the car dealership and went to investigate, that's when a Dodge Challenger jumped the curb and took off from Police. The officer followed but made sure to radio back and have officers check the dealership for more suspects. When they did a second chase with a high-end Dodge Challenger ensued.
The first chase ended at SR 39 and 37 where a Patrol car and the new vehicle crashed. The driver took off on foot and was later found not to far from the crash. He has been identified as a 15-year-old boy from Columbus.
The other chase exceeded 120 mph and was called off due to dangerous conditions.
In total two Dodge Challengers and a Jeep Grand Cherokee were stolen at the dealership.