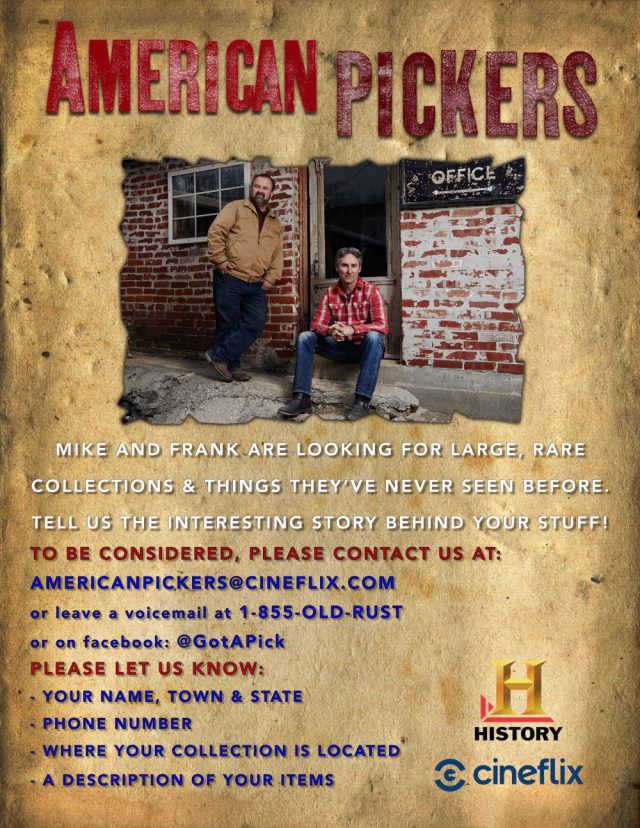 American Pickers, the popular History Channel show, has reached out to officials in Pickaway County seeking "interesting characters with interesting and unique items" for filming of the series this fall.



Oak Hill Chamber of Commerce, said the show's staffers called her office this week asking for leads in the local area during its scheduled filming throughout Ohio in October.
According to an official press release, they are seeking collections of items for the documentary series that explores the world of antique "picking." The show follows Mike Wolfe and Frank Fritz as they travel the United States in search of America's most valuable antiques and collectibles.
Preferred collections would include things like vintage bicycles, toys, unusual radios, movie memorabilia, advertising, military items, folk art, vintage musical equipment, vintage automotive items, early firefighting equipment, vintage clothing, pre-50s western gear.
Anyone who has a large collection or wants to refer someone to the show is urged to email their name, phone number, address and description of the collection with photos to [email protected] or call 1-855-OLD-RUST.
American Pickers has visited Pickaway County before during the show's infancy, visiting the Circleville Pumpkin Show in 2009. From there, they headed to Green's Heritage Farm near Commercial Point, which was featured in the third episode of the series on Feb. 1, 2010.
The episode, titled "White Castle on the Farm," is described on the show's web site as, "Mike and Frank spot a White Castle burger joint on an Ohio farmer's front lawn and discover his extraordinary collection of vintage buildings and vehicles."
They reportedly purchased several items from the Greens, including a soda fountain piece and a cigarette machine.
The following is a video clip of the show's stars at the 2009 Pumpkin Show:
American Pickers
 is produced by Cineflix Productions for the History Channel. New episodes air at 9 p.m. Wednesdays on History.