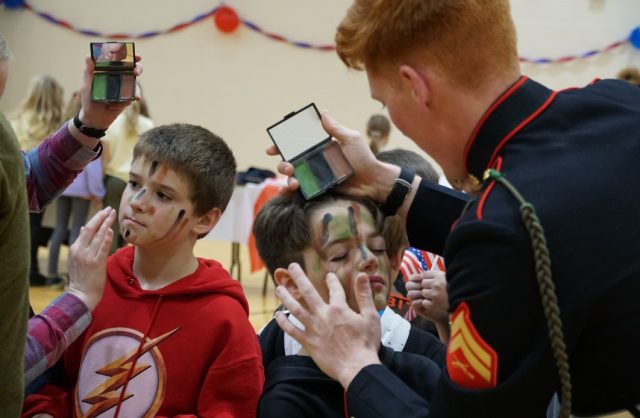 Fairfield County – Amanda-Clearcreek Elementary celebrates Veterans Day with a large celebration educating our youth on the sacrifices that some have given to our country. The honor starts with hundreds of flags and photos that line the front of the school as you walk in.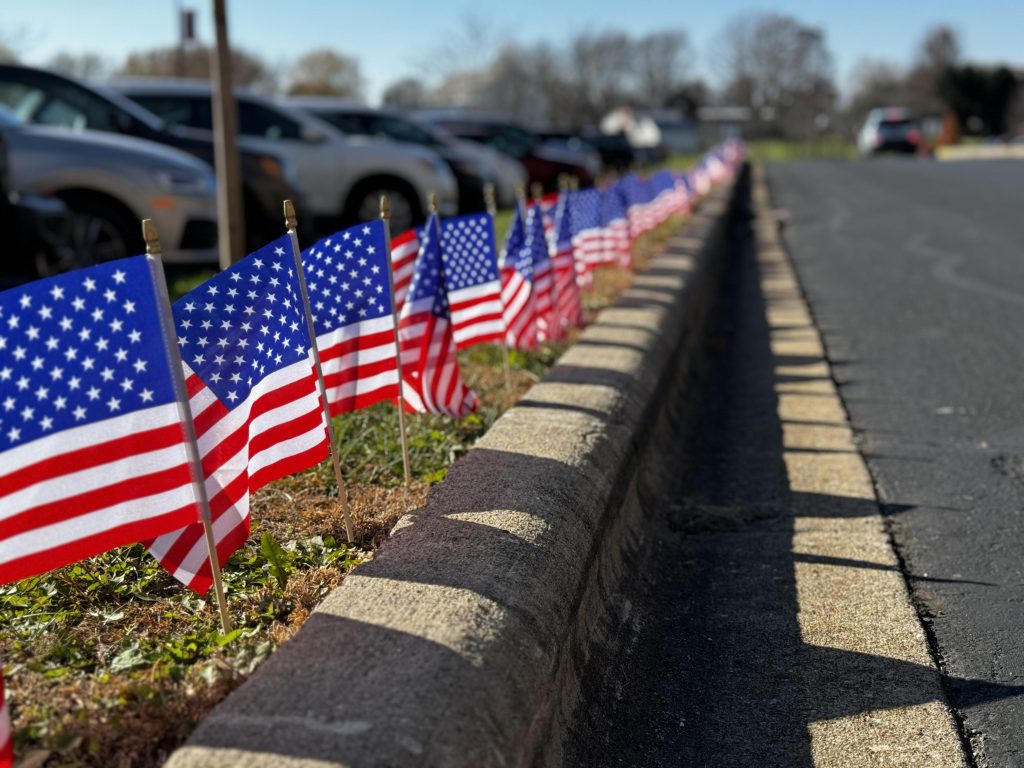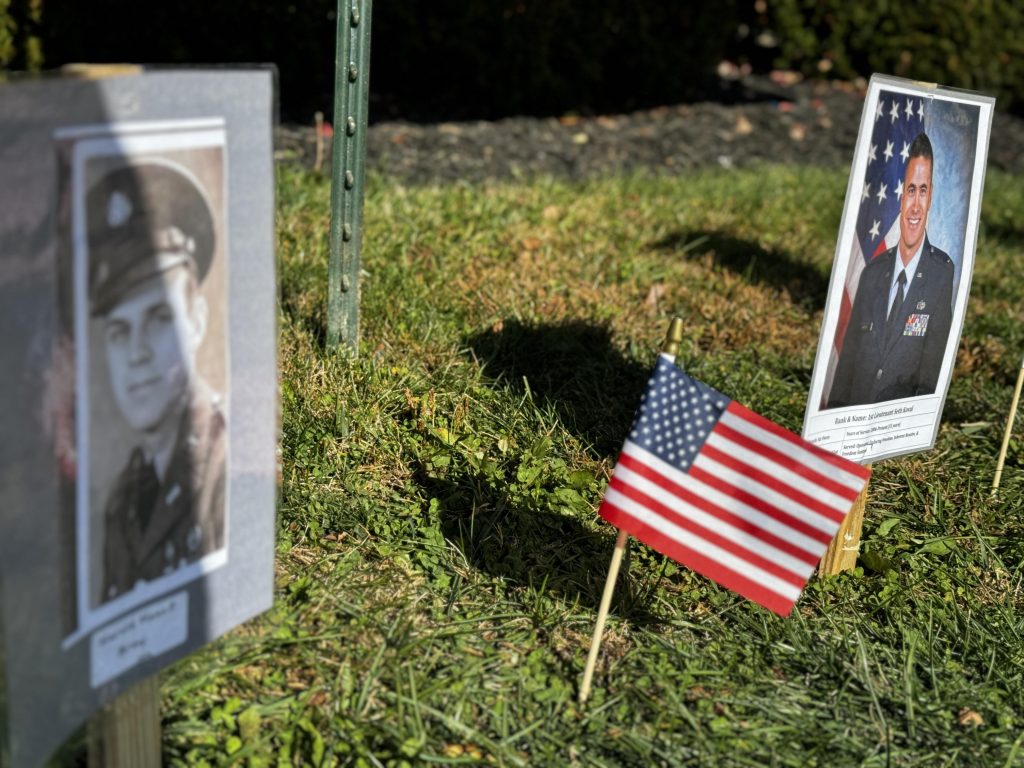 Kathy Smith a 4th grade teacher at the school started the project around seven years ago because of family members who have been in the military, and wanted to honor them somehow. Since then the project has grown and now takes months of planning.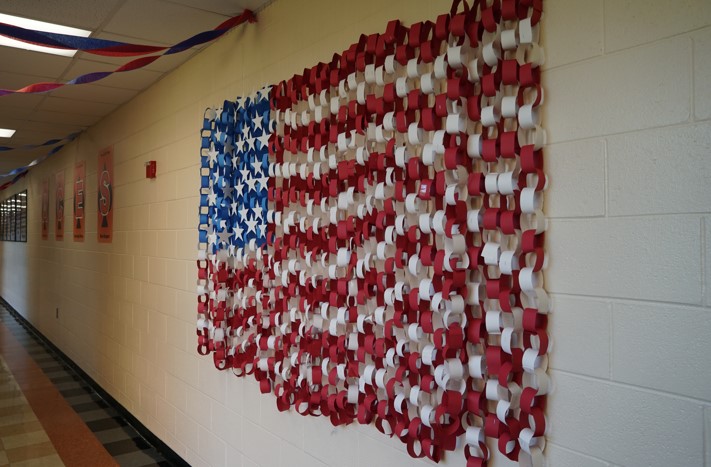 "Three of us run a program in the morning for the kids, that includes reading and comprehension about veterans, little puzzles, and tic tac toe. The kids make cards in the morning that the school delivers to the veterans, said Smith, "we collect money during pajama day and hat day and use that money to pay for the veterans' lunches today, any money left over we donate to the veterans home."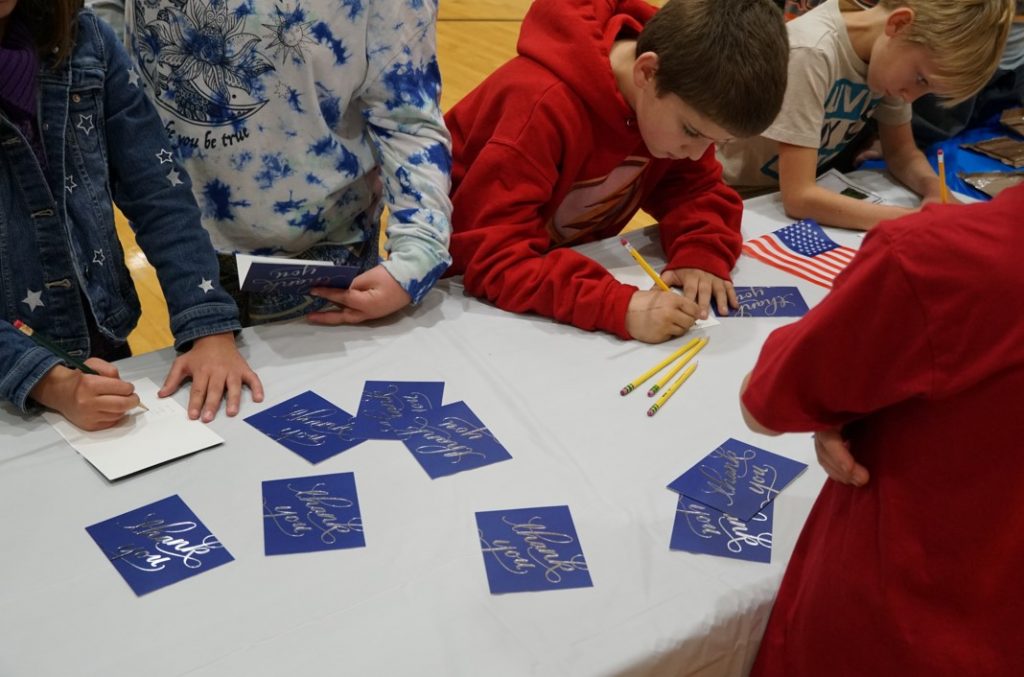 The school then reaches out to the veterans in the community and welcomes them in for lunch and some time to talk to the children about their service. Some military bring in items for a little show and tell.
In the lunchroom at the Elementary school, another project to honor the veterans and servicemen of the area has piggybacked off Smiths' idea. The project is filled with names, around 600 so far of service people who have a connection with the school or the area. This project is maintained by Julie Feliciano who also has some strong ties to the armed forces.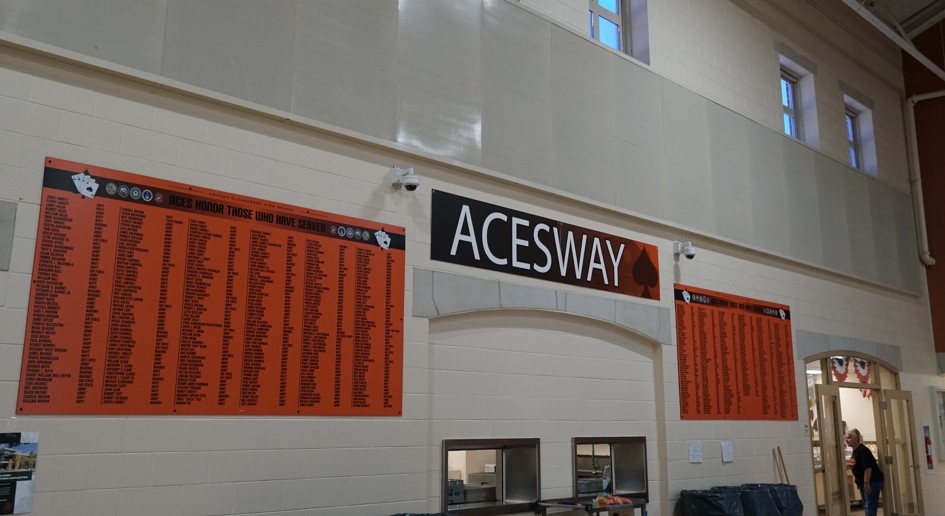 "I kind of inherited it, the project but im honored to do it," said Feliciano, "the "Aces Honor those who have served' board started with our former high school principals, Scott Hinton, and Mr. JB Deke, our former superintendent they felt like it was, it was time to honor our veterans. Our Social Studies Department started the project and received names from community members. We had one of our teachers actually went to the local cemeteries and recorded Veterans' names from the headstones. So when we receive more names the boards get an update, because there are a lot of veterans and we miss some, or families didn't remember to submit, their loved ones."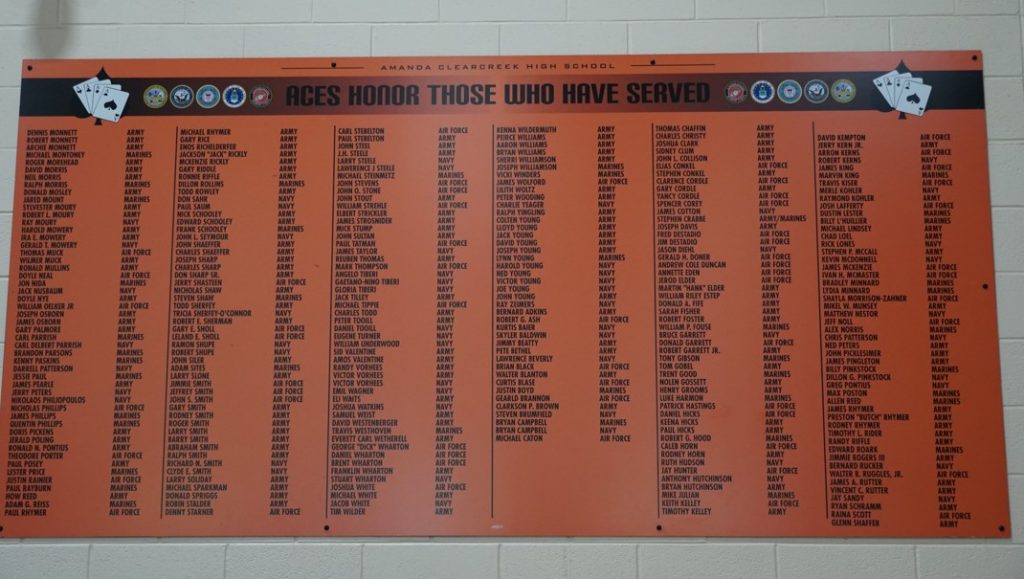 Feliciano says that her late husband's name is up on the board, her son, and her dad. Her husband served in the Air Force, her Dad was in the Navy, and her son is currently following in his dad's footsteps as a captain in the Air Force.
Special needs teacher Lorraine Rogers began a new project this year to help her students better understand Veterans Day, the project called, "America's White Table."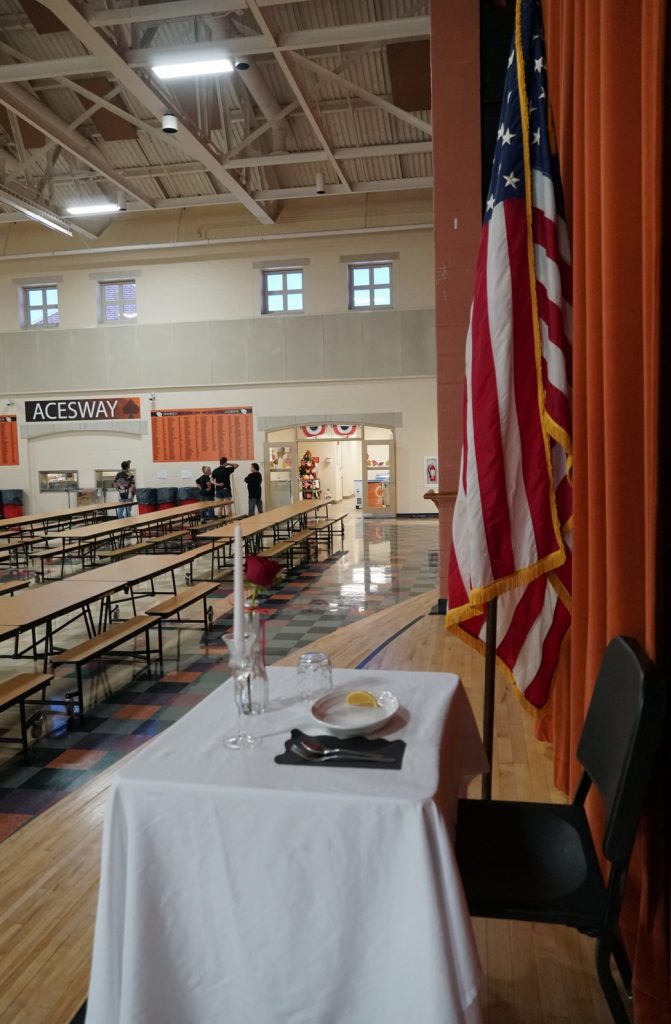 "The book was recommended by a teacher that I follow, who makes adaptive books for kids with special needs. This is the classroom with the other kids with special needs. So the book is able to be understood by them, and then activities that follow it that were designed by her. The symbolism is very simple, very deep, but very simple for my kids to be able to understand it. They placed everything on the table, as we were reminding them of what everything meant," said Rogers, "My Mom was military."
A definition of, "America's White Table Reads," The White Table is set in many mess halls as a symbol for and remembrance to service members fallen, missing, or held captive in the line of duty. Solitary and solemn, it is the table where no one will ever sit. As a special gift to her Uncle John, Katie and her sisters are asked to help set the white table for dinner. As their mother explains the significance of each item placed on the table Katie comes to understand and appreciate the depth of sacrifice that her uncle, and each member of the Armed Forces and their families, may be called to give. It was just a little white table… but it felt as big as America when we helped Mama put each item on it and she told us why it was so important. "We use a Small Table, girls," she explained first, "to show one soldier's lonely battle against many. We cover it with a White Cloth to honor a soldier's pure heart when he answers his country's call to duty." "We place a Lemon Slice and Grains of Salt on a plate to show a captive soldier's bitter fate and the tears of families waiting for loved ones to return," she continued."We push an Empty Chair to the table for the missing soldiers who are not here."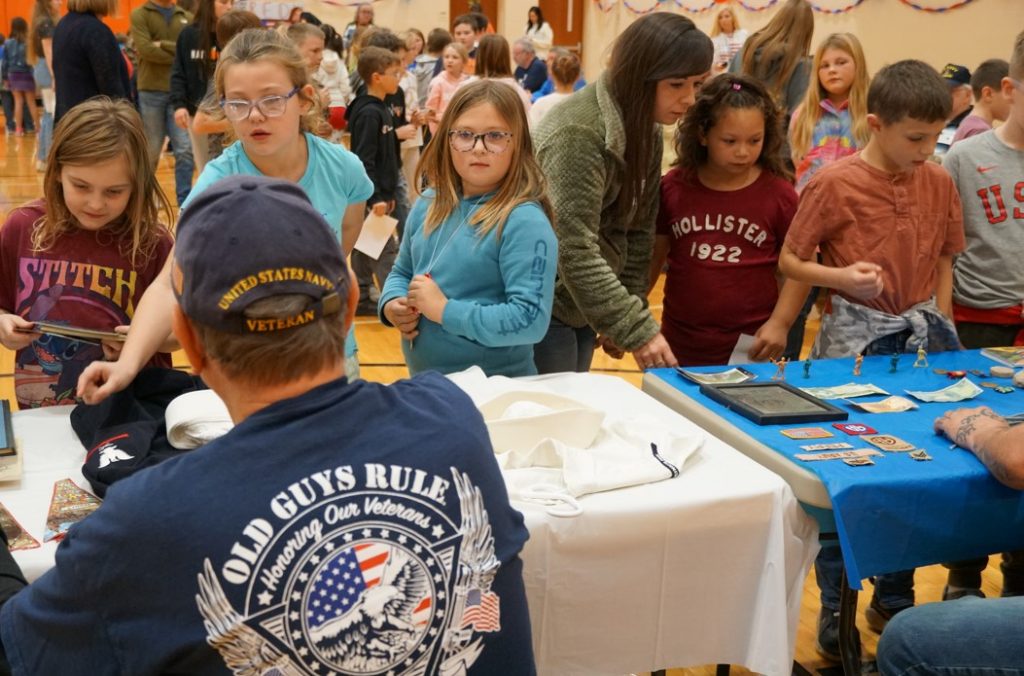 After lunch, the veterans and groups of elementary students meet, the veterans on one side of a table along with some items that they have brought from home, medals, uniforms, old photos, and stories. Kids spend time wandering the room talking to the vets and getting their face painted with some camouflage.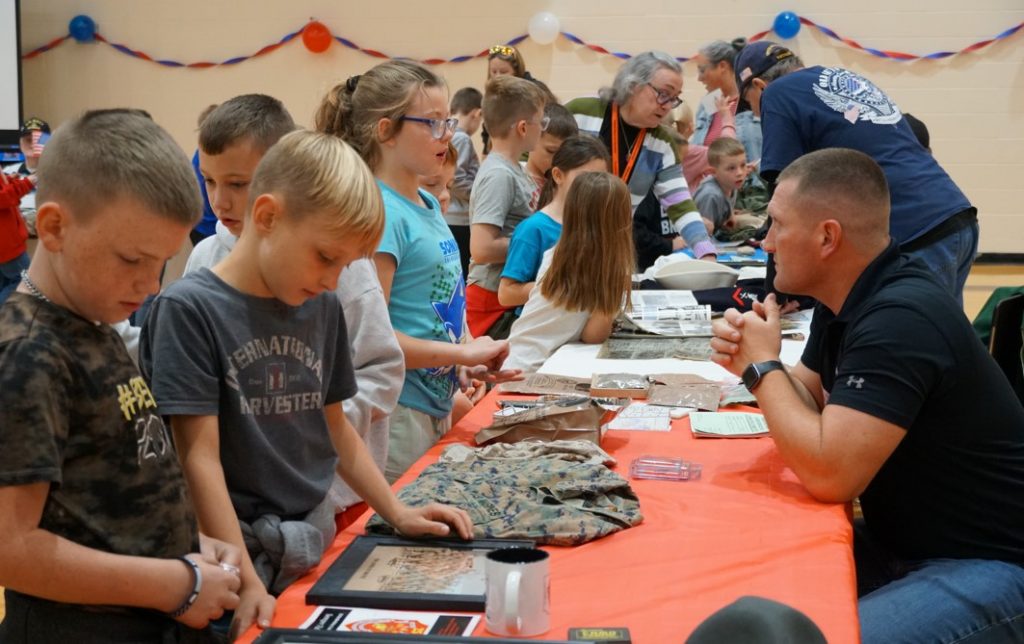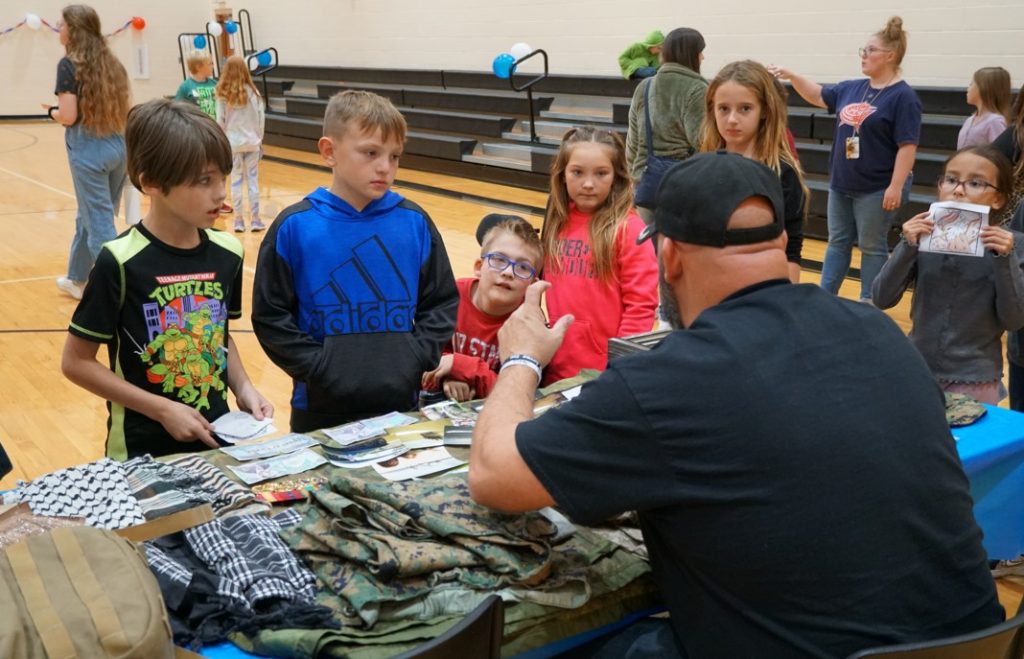 Local Circleville resident Ike Wampler says he's been going to the event for several years, a retired veteran of the Vietnam Era, and also a former student of Amanda-Clearcreek.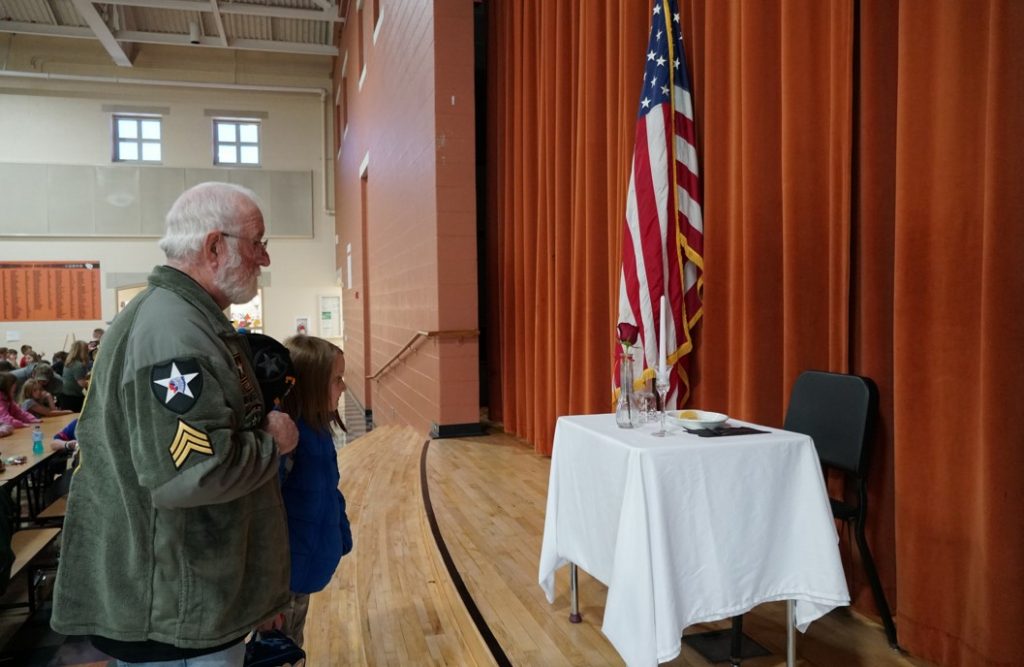 "This is amazing, I come year after year just to spend time with family and to help educate our youth," said Wampler," at the end of the Vietnam war we veterans were not treated so well, it's nice to be honored now."