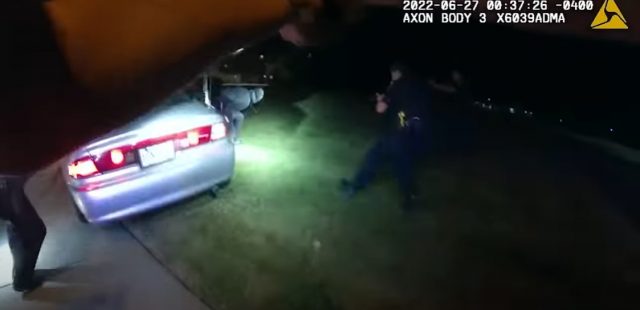 Akron – The City Mayor has placed the downtown area of Akron on a curfew on the Nations Holiday following a police-involved fatal shooting.
On June 27th the cities officers were involved in a chase that lead to the fatal shooting that ended in a suspect's death, Jayland Walker. Since then several protests have occurred in the city, some less than 24 hours before the city released body cam footage from the incident.
According to a press release from the City of the Akron Mayor a new city ordinance, adopted last year, requires the City to release video of an incident involving a police officer's use of deadly force against a person or use of force resulting in serious bodily injury to a person, within seven days of the incident. The initial release must include footage from at least three cameras, assuming multiple devices captured the events.  In this case, the city has released footage from all eight officers involved in the incident as well as five other officers who were on scene but did not shoot.
That footage was released yesterday, following that footage released several peaceful protests occurred in Akron's downtown area. The mayor canceled July 4th celebrations in the city due to the shooting and asked for protests to be peaceful but he reported that they did not.
"Early yesterday, we had several peaceful protests in the downtown footprint related to the officer-involved shooting of Jayland Walker. These protests did not escalate to violence and destruction. I want to first thank them," said Akron Mayor Dan Horrigan. "As I stated yesterday, I fully support our residents' right to peacefully assemble. What we have been calling for since the beginning, and what the Walker family and many community leaders and faith leaders have also urged, is peace. However, as night fell and others began to join, the protests became no longer peaceful. There was significant property damage done to downtown Akron. Small businesses up and down Main St. have had their windows broken. We cannot and will not tolerate violence or the destruction of property. In light of the damage that has occurred and in order to preserve peace in our community, I have declared a state of emergency, implemented a curfew and canceled the fireworks which were scheduled for tonight."
The body camera footage was released by the Police department below.