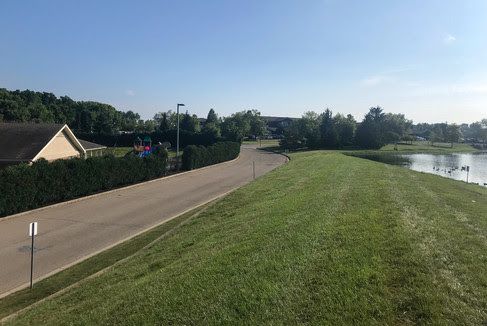 (SPRINGBORO, Ohio) — Ohio Attorney General Dave Yost is suing the joint owners of an earthen dam for ignoring state orders to fix the deteriorating structure, which poses a risk to the community.
The lawsuit accuses the Settlers Walk Homeowners Association and MCS Land Development LLC of failing to take action after multiple safety inspections of the Remick Lake Dam by the Ohio Department of Natural Resources (ODNR) found it needs repairs.
"The owners of this dam have shrugged off the state's warnings for over a decade at the expense of the public's safety," Yost said. "It's well past time for them to accept responsibility of this hazard and make the necessary repairs."
The structure, located off Remick Boulevard in Springboro, is categorized as a Class I dam, meaning a sudden failure would result in the probable loss of life or the collapse of at least one home or business.
If the dam were to fail, its spillways would direct floodwater toward a day care center, a strip mall and eight homes located downstream. ODNR is requiring the owners to realign the dam's emergency spillway, repair its principal spillway and install a lake drain capable of draining the reservoir in a reasonable amount of time.
ODNR in March 2017 ordered the homeowners association and MCS to submit a schedule of planned repairs, along with a plan for emergencies. The owners submitted a schedule in May 2017 indicating that repairs would be finished by September 2018, but they never took any of the steps outlined in their proposal and did not create an emergency plan.
In April 2018, ODNR sent a notice of violation directing the owners to bring the dam into compliance with state safety laws by December 2019. They again failed to take any action, prompting the chief of ODNR's Division of Water Resources to issue an order in August 2018 providing deadlines for the owners to address the dam's worsening condition. A visit to the dam in July found no signs of improvement.
The state's lawsuit filed in the Warren County Common Pleas Court seeks a court order requiring the homeowners association and MCS to comply with state safety laws within 180 days by repairing, modifying or permanently breaching the dam. If the owners choose to make repairs, they also will need to finalize a suitable emergency action plan within that time frame.
Attorney General Yost's Environmental Enforcement Section is handling the case.