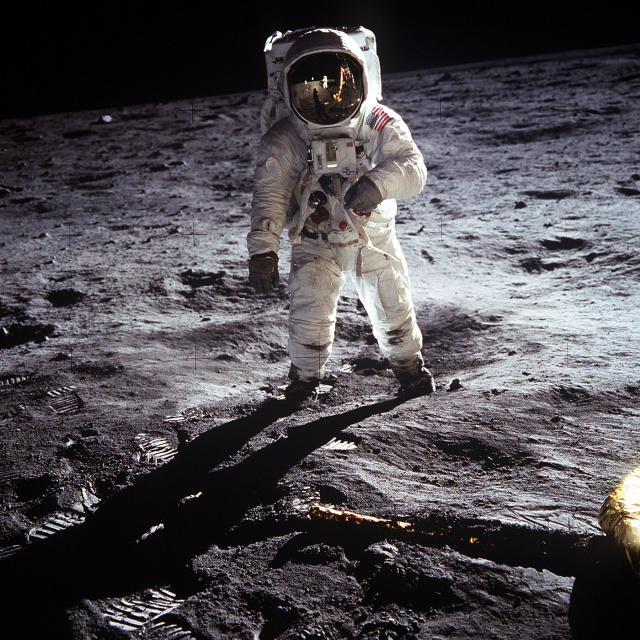 WASHINGTON, DC – On the Senate floor today, U.S. Senator Rob Portman (R-OH) paid tribute to his friend, Ohio-native Neil Armstrong, in advance of the 50th anniversary of the Apollo 11 moon landing, which takes place on July 20.
"Mr. President, I'm here on the floor this afternoon to talk about a landmark moment in human history that occurred 50 years ago next week — the Apollo 11 mission that landed the first person on the moon. Today, 50 years after that incredible feat, we sometimes take for granted that we explored the moon, but think for a moment about the generations of men and women, from the beginning of time until July 20, 1969, who looked up at the moon's pale light and wondered at what secrets and insights may lay on its surface. Think about the countless paintings and poems depicting the moon as an unchanging and unknowable presence in the sky and think about how, after hundreds of thousands of years of such mystery and reverence, we actually went there.
"On July 20, 1969, the world watched in breathless awe as grainy footage came in of the moon landing. It was beamed in from the lunar surface 289,000 miles away to millions of TV screens all around the globe. As a 13-year-old teenager, I saw two figures clad in bulky space suits bounce across the screen against the stark, black and white landscape. And as anyone who witnessed it can remember and tell you about, there was a great sense of pride, a great sense of pride as Americans. Americans who broke the earthly bonds that had tethered our ancestors for eons to set foot on the surface of a body we only saw in the distant night sky. I also felt pride as our pristine American flag was unfurled and planted on the moon's surface forever marking our country's trail-blazing spirit. And I felt pride in being from Ohio as my fellow Buckeye, Neil Armstrong, was the very first man to step on the moon, continuing our legacy in the state of Ohio as a pioneer in flight and in aerospace.
"In 2003, actually, Congress officially designated Ohio, The Birth Place of Flight, due to the Wright Brothers. They were born and raised in Dayton, Ohio. It was in their bicycle shop that they dreamed up and researched the first fixed-wing aircrafts anywhere. But for such a lofty title, Ohio has played an even greater role in the story of mankind's progress in the skies and beyond, even beyond the Wright Brothers. In fact, one of my predecessors in this seat here in the United States Senate was John Glenn, the first American to orbit the earth. In all, two dozen astronauts to date are natives of Ohio, more than any other state. I'm proud to say that many more call it home today. Our legacy of flight in Ohio continues today.
"In Dayton, Ohio, we have the National Air Force Museum that houses more than 300 historic aircraft. Wright-Patterson Air Force base, one of the largest in the country, trains not only our pilots in our Air Force, but those of our allies all around the world. Just last month, I had the honor of announcing with Neil Armstrong's widow, Carol Armstrong, that the Smithsonian will be bringing a special exhibit on the Apollo 11 mission, entitled Destination Moon, to Cincinnati's own Museum Center.
"On that day in 1969, Neil Armstrong became all of our heroes and it was at a time when our country was deeply divided over the war in Vietnam and other social and cultural issues. At a time when we were yearning for heroes, Neil Armstrong inspired us and brought us together as a country.
"I have one story, Mr. President, I'd like to share that I thought about walking over this afternoon about how Neil Armstrong inspired a particularly important group of Americans. In 2011, the year before Neil Armstrong died, he came here to the U.S. Capitol at my request to join my wife, Jane, and me at our swearing in ceremony. I was elected in 2010, my swearing in was early 2011. As we walked into the Capitol, we looked up on the left and saw a mural. It is a mural that is still on the first floor of the Capitol on the Senate side, and it is of Neil Armstrong on the face of the moon. I pointed it out to Neil and his wonderful wife, Carol, who was with us, and Neil's comment was, 'That's interesting.' For the 30 or 40 people who were with us walking in the Capitol that day, they didn't think it was interesting, they thought it was amazing. I later found out that Neil Armstrong was the only American living to have a mural painted of him in the U.S. Capitol.
"That night at dinner, one of my other friends, Colonel Tom Moe, came to me and asked if he could speak with Neil Armstrong and whether I would introduce him to Neil. I said, 'Of course.' Colonel Tom Moe is a hero in his own right, an Air Force pilot who was shot down over North Vietnam and spent many years in the prison called the Hanoi Hilton with our former colleague John McCain. A true hero. When we went over to see Neil Armstrong, Colonel Tom Moe, shared a story with him. He said that the prison guards in the North Vietnamese prison were intent on telling the prisoners that America was falling apart, that there were protests on the streets, which was true. That the country was deeply divided. That America was going backwards. He said in particular they didn't want the prisoners to know that America had accomplished, what President Jack Kennedy had laid out as an ambitious vow, which was to go to the moon by the end of the decade. They had kept that from them. And then one day, the captors, the prison guard somehow let a letter go to one of the prisoners from his mom and that letter included a postage stamp, of course, and guess what was on the postage stamp? A photograph of Neil Armstrong stepping on to the moon. Colonel Moe told Neil Armstrong it was incredibly inspiring. It lifted the spirits of all the prisoners. Immediately they went to the pipes and they tapped out what had happened, which is the way they communicated with one another in the Hanoi Hilton. And through the pipes and the tapping, he said you could just feel the momentum building and the morale improve. Neil Armstrong was not a very emotional guy, but when he heard that story, he became very emotional, as did Colonel Moe.
"But, again, just one more example of where Neil Armstrong inspired all of us — in this case, a group of Americans who richly deserved and badly needed that inspiration. Over the years my family and I have come to know the Armstrong family. Carol Armstrong is still in Cincinnati, a dear friend. We were his neighbors in Cincinnati. And as we've shared stories in the lead-in to the 50th anniversary of the moon landing, I've been reminded of how extraordinary it was that this towering figure had truly been such a modest, unassuming man despite all the notoriety. In my view, how he handled the spotlight into which he was thrust said as much about Neil Armstrong as the time he spent on the moon a half century ago. He was a true hero, but even before he blazed trails through the cosmos, Neil was already contributing to Ohio's rich legacy of pushing the boundaries of flight.
"He already served his nation with bravery and skill on Gemini 8 and as a test pilot pushing the envelope, he strapped himself on to terrifying looking contraptions with gigantic flame-belching engines tied on to huge fuel tanks. Before he was a test pilot he distinguished himself through his service to his country as a naval aviator — among other things, flying 78 combat missions over the Korean peninsula. In one such mission in fact, he was forced to eject from his plane on to enemy territory holding out long enough, thank God, for the United States Marines to locate him and escort him to safety. For all of these accomplishments, this son of Ohio received the highest honors a grateful nation could bestow, the Presidential Medal of Freedom, the Congressional Gold Medal, and the Congressional Space Medal of Honor.
"God smiled upon Neil Armstrong throughout his extraordinary life. Neil returned the favor by living his life with honor and dignity. In 2012, Neil returned to the heavens above, this time venturing into the Kingdom of Heaven. I had the honor of being among those who delivered a eulogy at his funeral. Then, as today, I remembered him as a hero and as a friend. He was a humble Midwesterner and a proud Ohioan who believed that the honor of serving his country and meeting great challenges in his own stoic way was all the reward he deserved. He was a refreshing counterweight to the celebrity culture we too often embrace today.
"The Apollo mission was many things to many people. To the world it was mankind's greatest journey to date, a daring sojourn to the crown jewel in the night sky. And for Americans it was an affirmation of America's exceptionalism, that we could beat the Soviets and respond to their Sputnik program by following through on President Kennedy's bold goal to land a man on the moon by the end of the 1960s. But for me and for thousands of other young boys and girls across Ohio, it was simply the next act in our state's leadership in aviation, done with that quintessential Midwestern resolve and humility. As Neil once so eloquently said, 'The important achievement of Apollo was demonstrating that humanity is not forever chained to this planet and our visions go rather further than that and our opportunities are unlimited.'
"50 years on as we look ahead to chart our next voyage to the stars, let us remember the bravery and the patriotism and the humility of Neil, also of his other astronauts, Michael Collins, Buzz Aldrin and the thousands of men and women who supported them on earth and the many courageous astronauts who preceded and followed them. Let the Apollo 11 mission be an example of what our great country can do when we come together to achieve the seemingly impossible. And let us commit to come together into the future, into the distant horizons — Like the Apollo 11 mission, exhibiting American leadership and benefiting all of mankind. There is more for us to do."