Leader of a Violent Mexican Drug Trafficking Organization Charged with International Drug Importation Conspiracy and Weapons Use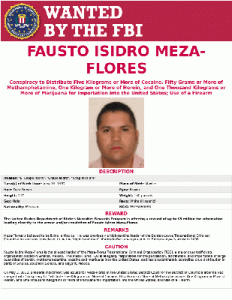 $5 Million Reward for Capture
Fausto Isidro Meza-Flores, also known as "Chapo Isidro," has been charged in a superseding indictment with a conspiracy to distribute cocaine, methamphetamine, heroin and marijuana for importation into the United States. Meza-Flores, a Mexican national who is believed to currently reside in Mexico, is the leader of the Meza-Flores Transnational Criminal Organization (TCO), a major drug trafficking organization based in Sinaloa, Mexico.
Assistant Attorney General Brian A. Benczkowski of the Justice Department's Criminal Division and Assistant Director in Charge Timothy R. Slater of the FBI's Washington Field Office made the announcement.
Fausto Isidro Meza-Flores, 37, is charged in a two-count indictment returned Nov. 26, 2019, alleging that from in or around January 2005, through November 2019, he conspired to distribute cocaine, methamphetamine, heroin, and marijuana from Mexico and elsewhere for importation into the United States. Further, Meza-Flores is alleged to have used and carried a machinegun and destructive device during, and in relation to, his drug trafficking crimes.
As part of continuing efforts to disrupt and dismantle the operations of the drug trafficking organizations, the FBI Washington Field Office, in partnership with the U.S. Department of State's Narcotics Rewards Program, has issued a reward of up to $5 million for information leading directly to the arrest and/or conviction of Meza-Flores. Individuals with information about Meza-Flores or the Meza-Flores TCO should contact the FBI at 1-800-CALL-FBI (1-800-225-5324), contact the nearest U.S. Embassy or Consulate, or submit a tip online at tips.fbi.gov. Tips can remain confidential.
The case is being investigated by the FBI Washington Field Office. This case is also the result of the ongoing efforts by the Organized Crime Drug Enforcement Task Forces (OCDETF), a partnership that brings together the combined expertise and unique abilities of federal, state, and local enforcement agencies. The principal mission of the OCDETF program is to identify, disrupt, dismantle, and prosecute high-level members of drug trafficking, weapons trafficking, and money laundering organizations and enterprises.
An indictment is merely an allegation, and a defendant is presumed innocent until proven guilty beyond a reasonable doubt in a court of law.
Trial Attorneys Jason Ruiz and Anthony Aminoff of the Criminal Division's Narcotic and Dangerous Drug Section (NDDS) are prosecuting the case.