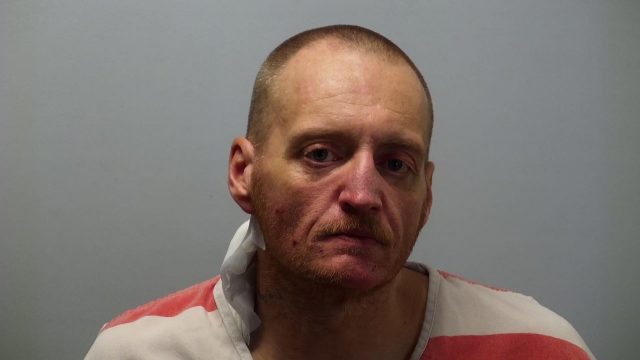 WASHINGTON COURT HOUSE –  Two officers were injured in a high speed pursuit that started in Washington Court House and ended in a farm field in Pickaway County on Wednesday night.
The chase started around just after 5 pm in Washington Court house and ended in a farm field on 8531 Grice Road in Williamsport. Several different agencies were involved in the chase. Two Washington County officers were hurt during the pursuit when they crashed into a ditch while chasing the suspect in the corn field.
One officer was transferred by medical helicopter to Grant medical in Columbus and other was taken to Berger Hospital in Circleville. Both officers injured were Washington Court house officers.
Update: Washington Court House Police have reported that both officers have been released from hospital and are home. The officer that was flown was because when the officers vehicle crashed the officer hit their head pretty hard and was in and out of consciousness multiple times.
The suspect Roger Allen Wood Jr. was in custody as of 7:30 pm tonight and was being transported to the hospital for treatment. Wood has a extensive background of charges. Those charges start in 2003 with several charges of burglary and theft, then move into domestic violence and violations of protection orders, in 2013 Wood moved into charges of possession of drugs and parole violations until last night where he was charged with Falilure to comply to order or signal of a Police officer and driving under suspension and violation of his last parole. Wood would be what you would call a "career criminal." Heres a list of his crimes over the last 17 years.
FAYE-JAIL IN201901296 12/18/2019 56835 FAYE-WCHMC () FAILURE TO COMPLY WITH ORDER OR SIGNAL OF P.O. (F3 FE Unmatched Code Not Entered CASH ONLY BOND 10000 Not Entered
FAYE-JAIL IN201901296 12/18/2019 56836 FAYE-WCHMC () DRIVING UNDER OVI SUSPENSION (M1) UN Unmatched Code Not Entered CASH ONLY BOND 1500 Not Entered
FAYE-JAIL IN201901296 12/18/2019 56837 FAYE-APA () PAROLE VIOLATION FE Unmatched Code Not Entered NO BOND Not Entered
FAYE-JAIL IN201900737 9/6/2019 55670 FAYE-APA () FAILURE TO APPEAR UN Unmatched Code Not Entered Not Entered Unmatched Code
FAYE-JAIL 20173880 1/18/2019 1 FAYE-CPC (FRESH) PAROLE VIOLATION F4 ORDER OF THE COURT BEATHARD OWN RECOGNIZANCE 0 ORDER OF THE COURT
FAYE-JAIL 20173880 1/18/2019 27056 Not Entered () PAROLE VIOLATION UN Not Entered NO BOND Not Entered
FAYE-JAIL 20172674 5/29/2018 1 Unmatched Code (ORDR) PAROLE VIOLATION F4 ORDER OF THE COURT PONTIOUS OWN RECOGNIZANCE 0 ORDER OF THE COURT
FAYE-JAIL 20172674 5/29/2018 46861 Not Entered () PAROLE VIOLATION UN Not Entered NO BOND Not Entered
FAYE-JAIL 20172024 1/26/2018 1 Unmatched Code (HOLD) PAROLE VIOLATION F4 SENT TO PRISON Unmatched Code Not Entered 0 TRANSFERRED TO PRISON
FAYE-JAIL 20172024 1/26/2018 2 Unmatched Code (CRB1800116) OBSTRUCTING OFFICIAL BUSINESS M2 ORDER OF THE COURT PONTIOUS OWN RECOGNIZANCE 0 ORDER OF THE COURT
FAYE-JAIL 20172024 1/26/2018 6405 Not Entered () PAROLE VIOLATION UN Not Entered NO BOND Not Entered
FAYE-JAIL 20172024 1/26/2018 6410 Not Entered (CRB1800116) OBSTRUCTING OFFICIAL BUSINESS UN Not Entered NO BOND Not Entered
FAYE-JAIL 20066703 6/23/2009 1 Unmatched Code () CONTEMPT OF COURT M1 TIME SERVED BENDER Not Entered 0 TIME SERVED
FAYE-JAIL 20066703 6/23/2009 49635 Not Entered () CONTEMPT OF COURT UN Not Entered NO BOND Not Entered
FAYE-JAIL 20064091 2/28/2008 1 Unmatched Code () PAROLE VIOLATION F4 PAROLE BEATHARD Not Entered 0 PROBATION/PAROLE RELEASE
FAYE-JAIL 20064091 2/28/2008 9329 Not Entered () PAROLE VIOLATION UN Not Entered NO BOND Not Entered
FAYE-JAIL 20063692 12/18/2007 1 Unmatched Code (CRB 0701448) VIOLATION OF PROTECTION ORDER M1 ORDER OF THE COURT PONTIOUS NO BOND 0 ORDER OF THE COURT
FAYE-JAIL 20063692 12/18/2007 2 Unmatched Code () PAROLE VIOLATION F4 ORDER OF THE COURT ACTING, JUDGE NO BOND 0 ORDER OF THE COURT
FAYE-JAIL 20063692 12/18/2007 49628 Not Entered () PAROLE VIOLATION UN Not Entered NO BOND Not Entered
FAYE-JAIL 20063692 12/18/2007 49634 Not Entered () VIOLATION OF PROTECTION ORDER UN Not Entered NO BOND Not Entered
FAYE-JAIL 20063346 10/4/2007 1 Unmatched Code () DOMESTIC VIOLENCE M1 ORDER OF THE COURT PONTIOUS NO BOND 0 ORDER OF THE COURT
FAYE-JAIL 20063346 10/4/2007 16084 Not Entered () DOMESTIC VIOLENCE UN Not Entered NO BOND Not Entered
FAYE-JAIL 20050240 3/2/2005 1 Unmatched Code () WARRANT TO CONVEY FOR TRIAL F5 WAITING TRIAL BEATHARD NO BOND 0 Not Entered
FAYE-JAIL 20050240 3/2/2005 49633 Not Entered () WARRANT TO CONVEY FOR TRIAL UN Not Entered NO BOND Not Entered
FAYE-JAIL 20041536 12/17/2004 1 Unmatched Code () BURGLARY F2 SENTENCED BEATHARD SENTENCED 0 SENTENCED
FAYE-JAIL 20041536 12/17/2004 2 Unmatched Code () THEFT F5 SENTENCED PONTIOUS SENTENCED 0 SENTENCED
FAYE-JAIL 20041536 12/17/2004 29518 Not Entered () BURGLARY UN Not Entered NO BOND Not Entered
FAYE-JAIL 20041536 12/17/2004 29519 Not Entered () THEFT UN Not Entered NO BOND Not Entered
FAYE-JAIL 20031607 12/12/2003 1 Unmatched Code (CRI20030266) BURGLARY F2 BAIL BOND ACTING, JUDGE CASH ONLY BOND 25000 BOND
FAYE-JAIL 20031607 12/12/2003 2 Unmatched Code (CRI20030266) THEFT F5 BAIL BOND BEATHARD CASH ONLY BOND 2500 BOND
FAYE-JAIL 20031607 12/12/2003 2517 Not Entered () BURGLARY UN Not Entered NO BOND 25000 Not Entered
FAYE-JAIL 20031607 12/12/2003 2518 Not Entered () THEFT UN Not Entered NO BOND 2500 Not Entered
FAYE-JAIL 20031072 8/4/2003 1 Unmatched Code () CONTEMPT CO COURT UN SENTENCED BENDER Not Entered 0 SENTENCED
FAYE-JAIL 20031072 8/4/2003 2516 Not Entered () CONTEMPT CO COURT