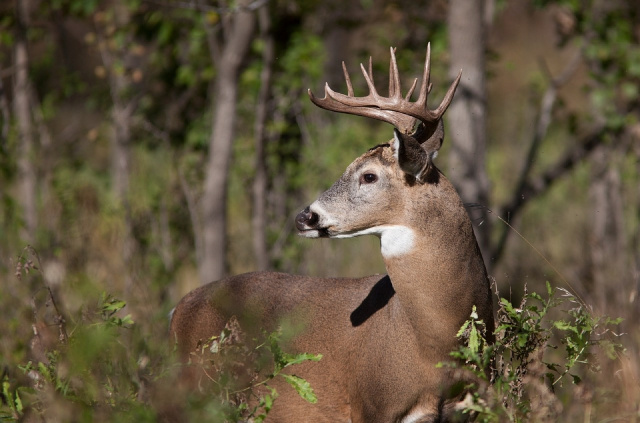 COLUMBUS, Ohio – The Ohio Wildlife Council approved proposed hunting and trapping season dates for 2023-24, including deer bag limit changes in seven counties, during its regularly scheduled meeting on Wednesday, April 12, according to the Ohio Department of Natural Resources (ODNR) Division of Wildlife.

Deer hunting seasons
Deer are Ohio's most popular game animal. Seasons in 2023-24 will have similar dates to last year. Bag limits will increase to three deer in Belmont, Gallia, Geauga, Harrison, Jefferson, and Monroe counties, and will decrease to two in Butler County. As in years past, only one antlered deer may be harvested, regardless of where or how it is taken. The deer hunting season dates for 2023-24 include:
Deer archery: Sept. 30, 2023-Feb. 4, 2024
Youth deer gun: Nov. 18-19, 2023
Deer gun: Nov. 27-Dec. 3, 2023; Dec. 16-17, 2023
Deer muzzleloader: Jan. 6-9, 2024
The Chronic Wasting Disease (CWD) disease surveillance area in Hardin, Marion, and Wyandot counties will again allow additional hunting opportunities to slow the spread of CWD. In addition to the statewide hunting seasons, hunters in Hardin, Marion, and Wyandot counties will have opportunities to participate in disease surveillance area seasons:
Deer archery season: Sept. 9, 2023-Feb. 4, 2024
Early gun season: Oct. 7-9, 2023
Turkey hunting
Fall turkey hunting will be available in 70 counties this fall from Saturday, Oct. 14 to Sunday, Nov. 12, 2023. The season bag limit is one bird of either sex. Spring 2024 wild turkey hunting season dates will be determined in the fall.
 
General hunting seasons
The Ohio Wildlife Council voted to approve proposed season dates similar to last season for waterfowl and migratory birds.
 
The council received a proposal to reduce the ruffed grouse hunting season dates and open counties because of long-term trends in declining grouse numbers. Proposed grouse season dates are from Friday, Nov. 3 to Sunday, Nov. 26 with a daily limit of one bird. Season dates would be aligned for public and private land. The proposal would allow grouse hunting in Adams, Athens, Belmont, Gallia, Jackson, Lawrence, Meigs, Monroe, Morgan, Noble, Pike, Ross, Scioto, Vinton, and Washington counties.
 
Ohio Wildlife Council 
The Ohio Wildlife Council is an eight-member board that was first formed in 1949. It reviews and votes on all Division of Wildlife proposed rules and regulations. Council meetings are open to the public. Individuals interested in providing comments are asked to call 614-265-6304 at least two days prior to the meeting to register. All comments are required to be three minutes or less.  

In 2023, the Division of Wildlife celebrates 150 years of professional fish and wildlife conservation since it was founded as the Ohio Fish Commission in 1873. Throughout the agency's history it has remained committed to fish and wildlife research, restoration, conservation, and education.