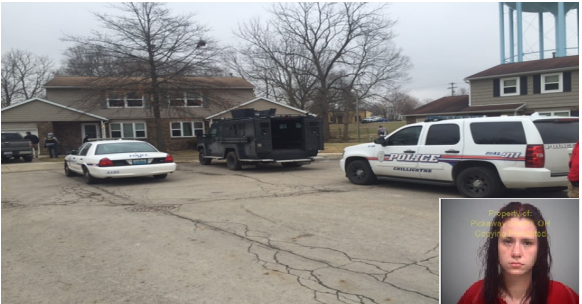 At 8:13 AM officers were dispatched to the lot of Duke & Duchess (235 East Main Street) on a report of a suspicious person in the parking lot. Sgt. Hafey and Ofc. Fahrer arrived on the scene and located the person, identified as Alexis Williams of Piketon, in the vehicle. She was found to be impaired and placed under arrest for OVI. Alexis also had a statewide warrant for her arrest from Pike County for an indictment for Burglary. Upon further investigation it was discovered the vehicle was reported stolen from West Virginia. Alexis was transported to the Pickaway County Jail charged with Receiving Stolen Property (Possession of Drugs, OVI, Possession of Drug Abuse Instruments.
Later that morning in an unrelated incident, the Circleville Police Department along with The Pickaway County Sheriff's Office, The Chillicothe Police Department, The Circleville Municipal Court Probation Department and The Ohio State Highway Patrol conducted a Joint Narcotics Operation in the City of Circleville. Circleville Fire Department and Box 65 also assisted with this operation due to weather concerns and children present. Nine suspects were taken into custody and charged with various crimes. The Chillicothe SWAT team made entry into both residences located at 109 and 113 Francene Court. Small children were located inside 109 Francene Court with Tabitha Stevens and Justin Bell. Paul Vanhorn, Johnny Palmer, Kish Campbell, Gregory Salyers, Sarah Downs, Johnathen Davis and Tracey Banik were all located inside 113 Francene Court. The suspects inside both residences admitted to knowing that drugs were being sold from the residence.
Methamphetamine and Heroin were located inside of the residences along with copious amounts of narcotic paraphernalia and instruments.
All suspects were transported to the Pickaway County Sheriff's Office. Tabitha Stevens was charged with 3 counts of Child Endangering and Trafficking in Methamphetamine. Johnny Palmer was charged with Possession of Heroin and Possession of Methamphetamine. Palmer also had a Statewide Felony Warrant for Failure to Comply. Johnathen Davis had a Felony warrant for Possession of Drugs, Gregory Salyers had Misdemeanor warrant for Possession of Drugs. Paul Vanhorn was arrested on a Violation of Probation. All of the occupants inside the residences were charged with Permitting Drug Abuse.