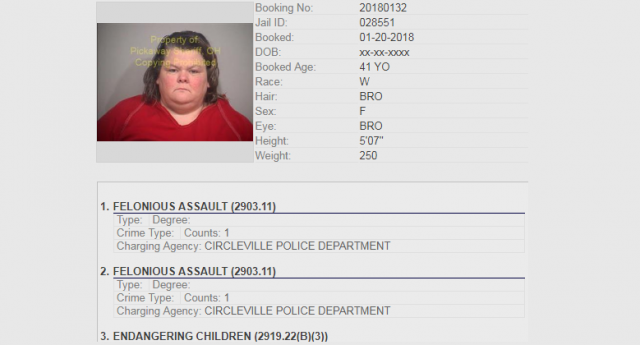 On January 19, 2018 Pickaway County Child Protective Services (PCPS) contacted the Circleville Police Department regarding a child abuse case that involved two toddler aged children. Information was reported to Children Services that the two children were being mistreated. The children were located by PCPS, who caused the children to be taken to Children's Hospital in Columbus for examination.
The examination reported by hospital staff indicated that the children were malnourished, and in poor condition. There were signs of abuse or abuse related trauma to both children.
Found on the children were numerous bruises, marks, and scratches.
As of January 23, 2018, the children's custodian, Martha Lemaster has been criminally charged for multiple counts of Felonious Assault and Felony Child Endangering. The children have been placed in custody of PCPS.
The case is still under investigation by the Circleville Police Department.
Editors Note:
Martha Lemaster is currently residing in the Pickaway County Jail with 5 charges pending:
2 Counts of FELONIOUS ASSAULT (2903.11)
2 Counts of ENDANGERING CHILDREN (2919.22(B)(3))
1 Count of MATERIAL WITNESS (2937.18)
Additionally, one court eyewitness was quoted as stating "One child was 0.01% for weight, and the other 0.07%" stating that the children were severely malnourished.