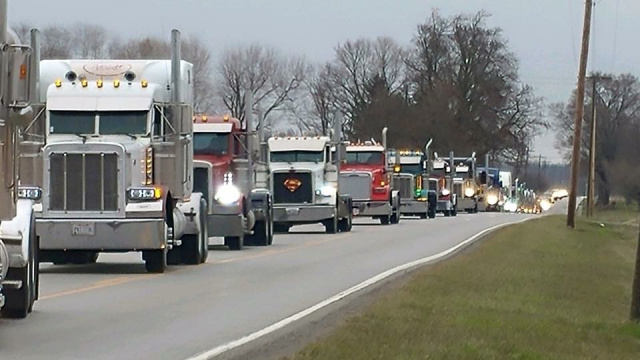 LYNCHBURG -David L. Griffith age 65 of Lynchburg died Wednesday, March 21, 2018 at the home of his daughter in Blanchester.  He worked for the Jim Mootz Trucking company for over 25 years. "We are all very close with each other. The trucks in the video are co-workers of his and friends in the trucking industry who all wanted to give him a proper escort to his resting place. His casket was carried by his semi on the trailer he pulled every day," said Jr Vearil.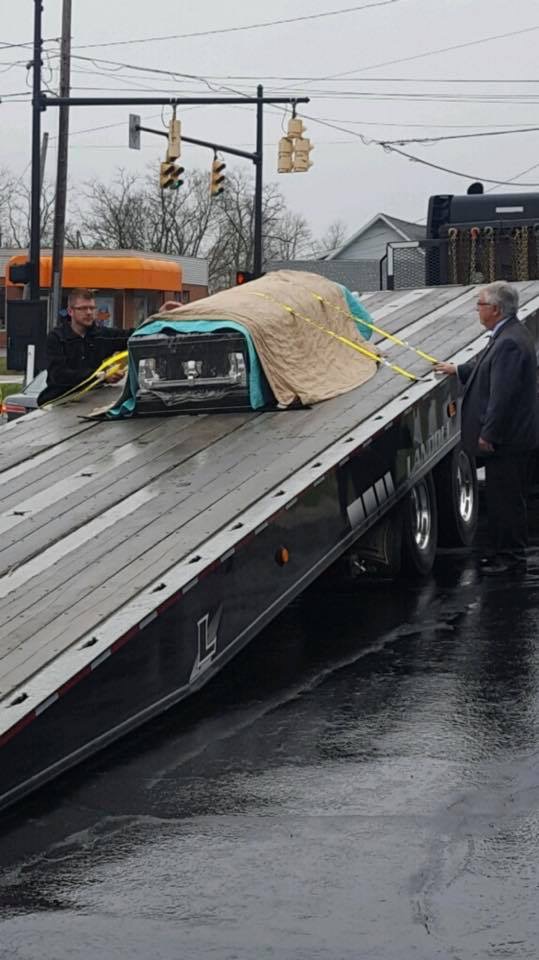 "He had worked for our family business Jim Mootz trucking out of Fayetteville, Ohio for 25+ years. He worked seven days a week; he has over 2,000,000 miles under his belt of driving. (He's a) very hard-working, man family oriented man.
He dedicated his life to trucking, he even worked when he was sick, taking cancer treatment and come in the afternoon and drive – very, very tough man.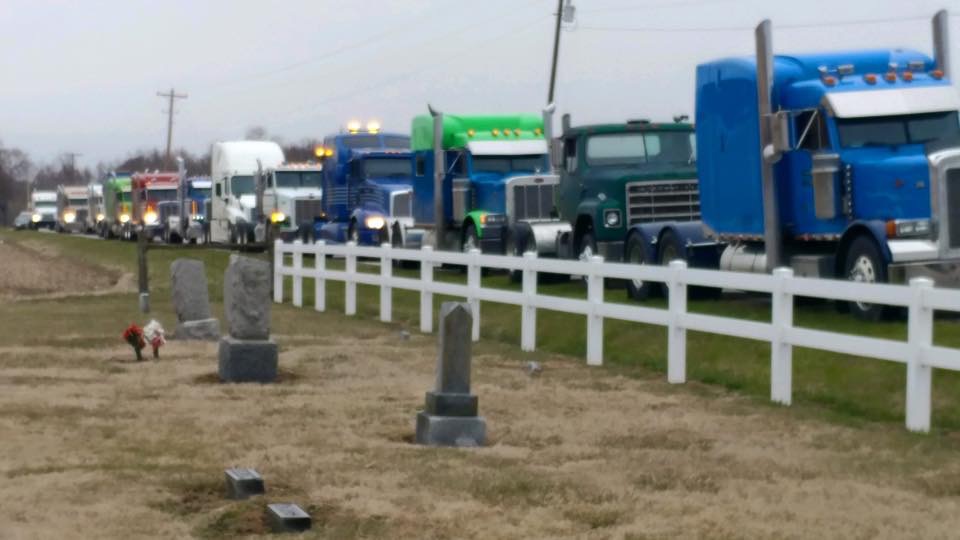 Trust me he deserved every bit of the respect shown. He fought cancer and still worked and has worked his whole life," said Vearil.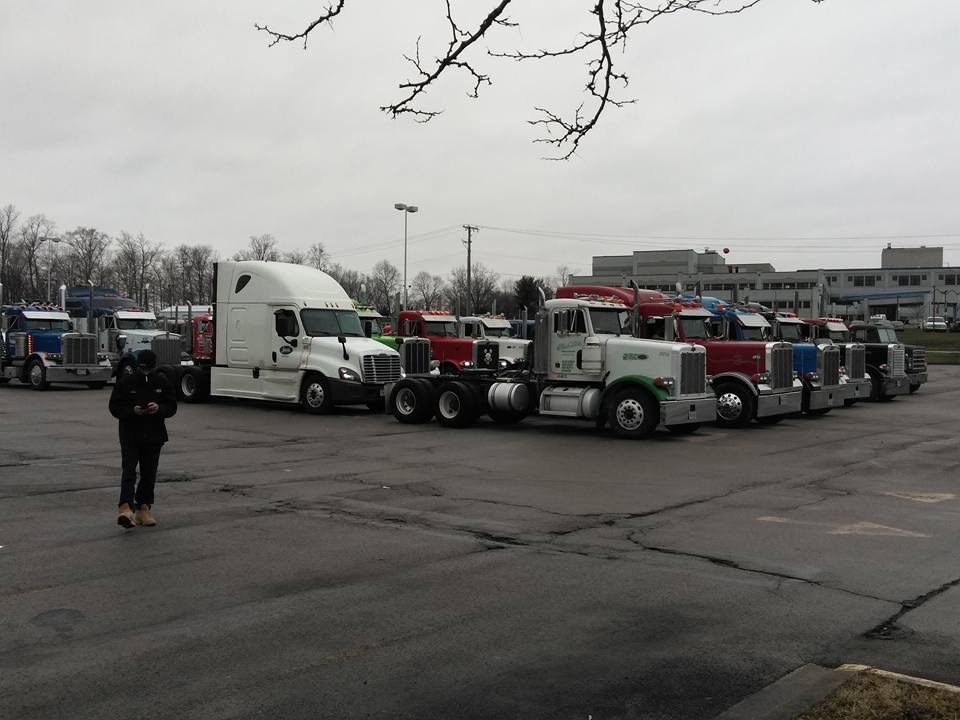 "He was a pretty awesome person you knew where you stood with him. He was with us here for 25 years everyone looked up to him that knew him.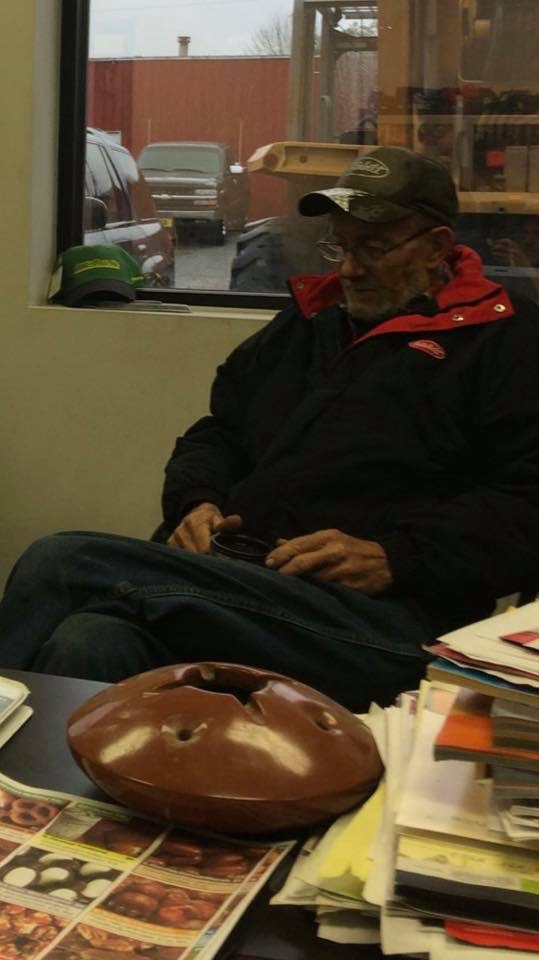 The show of support and honor for David was well deserved, cancer took him away from us way to early. He was just an all around a good guy.  I learned so much from him and respected him so he will never be forgotten promise you that,"  said Phil "plowboy" Maxwell.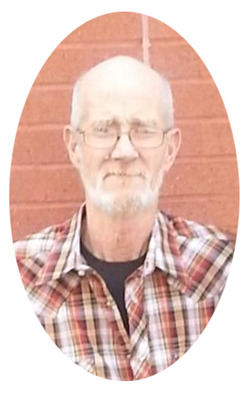 David's obituary
David L. Griffith age 65 of Lynchburg died Wednesday, March 21, 2018 at the home of his daughter in Blanchester. He was born April 20, 1952 in Hillsboro, Ohio the son of the late Gerald V. and June Miller Griffith. Mr. Griffith was a truck driver for Jim Mootz Trucking. He is survived by his wife, Koni King Griffith who he had married on March 27, 1971, one daughter, Shaunda E. (Kenny) Godfrey of Blanchester, four grandchildren, Michael (Allison Chambers) Griffith of Lynchburg, Bethanie (William Day) Griffith of Blanchester, Megan (Gerald Johnson) Griffith of Wilmington, Morgan (Zach) Hall of Lynchburg, four great grandchildren, Paxton Day, Harper Griffith, Ellie Griffith, Haylie Hall, one sister, Diane (Ralph) Malicoat, Hillsboro and one brother Donald Griffith of Hillsboro. Services will be held 3:00 p.m. Tuesday, March 27th at the Turner & Son Funeral Home. Burial will follow in the Strange Cemetery. Friends may call on Monday from 5:00 p.m. until 8:00 p.m. at the Turner & Son Funeral Home. Memorial contributions may be made to the American Cancer Society, 2808 Reading Road, Cincinnati, Ohio 45206. Condolences may be sent to the family by visiting www.turnerfuneralhomes.cc