OHIO – Five years ago eight people were found dead in their homes, police have said it was a "professional like hit." Now one of four people have pleaded guilty to those crimes.
Edward "Jake" Wagner appeared in court Thursday to change his plea to guilty, and part of that deal will be that he will avoid the death penalty, but will serve several lifetimes behind bars.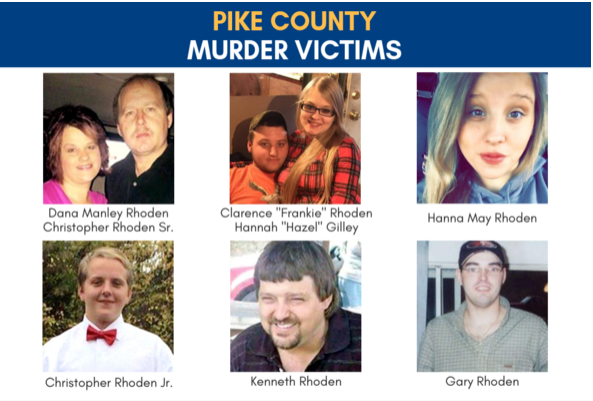 Victims of the murder were Christopher Rhoden Sr., 40, his ex-wife Dana Manley Rhoden, 37, and their three children, Hanna May Rhoden, 19, Christopher Rhoden Jr., 16, and Clarence "Frankie" Rhoden, 20. Frankie Rhoden's fiancée, Hannah "Hazel" Gilley, 20, was also killed, along with the elder Christopher Rhoden's brother Kenneth Rhoden, 44, and cousin Gary Rhoden, 38.
Four family members have been charged in the murder,
George "Billy" Wagner III, 47
Angela Wagner, 48
George Wagner IV, 27
Edward "Jake" Wagner, 26
One of the victims was Jakes's ex-girlfriend that had a volatile relationship with custody.
Police say that this custody situation was one of the main motives to the attack that they say was slowly planned out and executed.
Most of the people who were killed were shot execution style, three children were left unharmed during the massacre and were found the next day.
Edward 'Jake' Wagner pleaded guilty to eight counts of aggravated murder in the hearing in Pike County Commons Pleas Court. He also pleaded guilty to gun specifications and conspiracy. Wagner has agreed to a sentence of eight life sentences without parole.
Dave Yost said, "Jake Wagner is pleading guilty to the Pike County Murders on the fifth anniversary. Proud of the BCI investigative team that doggedly worked this difficult case."
According to FOX19 The state is agreeing to drop state death penalties against him and his family if Jake will testify against his mom, dad, and brother during their trials where they are charged with the same crimes.