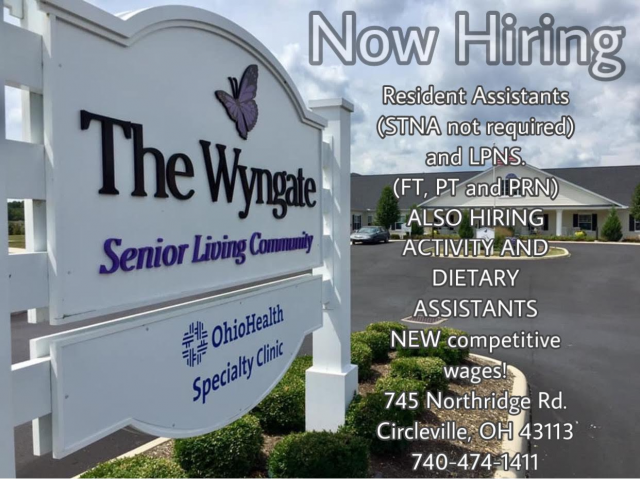 NOW HIRING: The Wyngate of Circleville is always seeking qualified, highly motivated individuals to join our staff. Interested candidates need to enjoy helping others and have a fun, positive attitude. We're looking for people who want to make each day special, not only for themselves, but also those they come in contact with. If this describes you, please download our application and send us your resume.



Then this is your opportunity to join our amazing team and care for older adults!
The Wyngate at Circleville Senior Living Community is NOW HIRING for:
Resident Assistants (STNA not required)
LPNS. (FT, PT and PRN)
DIETARY ASSISTANTS.
NEW competitive wages!
745 Northridge Rd. Circleville, OH 43113
740-474-141
http://www.wyngatecircleville.com/Employment
Call today or visit our website to set up an interview!
The Wyngate of Circleville is an equal opportunity employer offering competitive pay and great benefits in a fun work environment. We look forward to hearing from you!