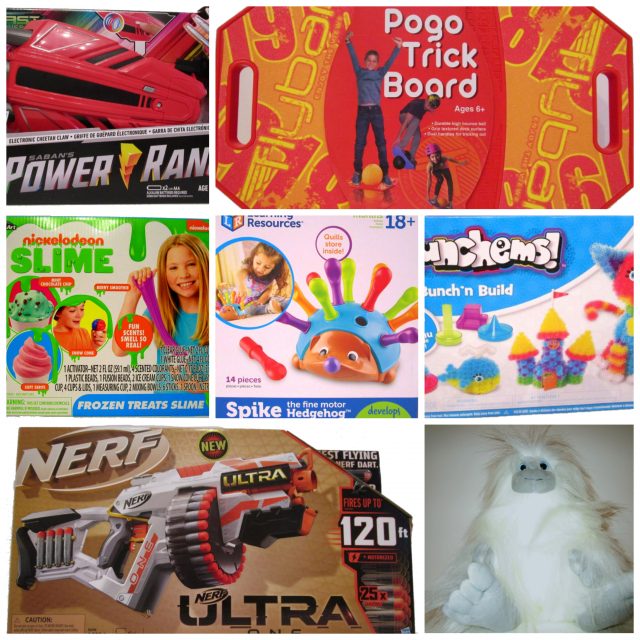 USA – World Against Toys Causing Harm, Inc. (W.A.T.C.H.) today revealed its nominees for the "10 Worst Toys of 2019" and demonstrated why the "Nerf Ultra One," "Pogo Trick Board," and other potentially hazardous toys should not be in the hands of children. Although intended for fun and entertainment, many toys contain hidden hazards unnecessarily putting children at risk of injury or death. W.A.T.C.H. addressed the types of toy hazards available online, as well as in retail stores, so parents and caregivers know what traps to avoid when buying toys—especially in the upcoming 2019 holiday shopping season.
At this year's press conference at Franciscan Children's in Boston, Consumer Advocates Joan Siff, President of W.A.T.C.H., and James Swartz, Director of W.A.T.C.H., illustrated some of the classic safety hazards that continue to re-appear year after year. These traps included poorly designed toys as well as inconsistent and inadequate warnings, cautions and age recommendations. Highlighted at this year's conference, among other safety concerns, were projectile toys that could fire with enough force to potentially cause eye injuries and toys that encourage children to jump or ride with the potential for head injuries. Some of these toys are sold without the proper safety gear or marketed with inconsistent safety messages. Swartz and Siff also discussed the impact of online purchasing on toy safety, up-to-date information about toy recalls and the necessity for more stringent oversight of the toy industry. Unfortunately, there have been many deaths, disfigurements and disabilities inflicted upon children as a result of poorly designed and tested toys. One reason the message today is so urgent: Many toy-related injuries are preventable.
For over four decades, W.A.T.C.H. has tackled the issue of dangerous toys in the hope of bringing about change and reducing injuries to children. Nonetheless, dangerous toys remain on store shelves, in catalogues, and on e-tailers' websites. Shockingly, classic toy dangers, such as small parts, strings, projectiles, toxic substances, rigid materials, and inaccurate warnings and labels, continue to be manufactured by the toy industry in newly designed packaging.
The toys that made the list:
Neft Ultra One

HAZARD: POTENTIAL FOR EYE INJURIES!

W.A.T.C.H. OUT! The manufacturer of this dart "blaster" boasts that the ammunition "FIRES UP TO 120 FT" with "POWERFUL SPEED" making this the "FARTHEST FLYING NERF DART. EVER." The darts provided can shoot with enough force to potentially cause eye injuries. Of note at least one retailer sells this "motorized" toy weapon alongside "Nerf Battle Goggles, a "toy" which "…does not provide protection."

Spike the Fine Motor Hedgehog

HAZARD: POTENTIAL FOR INGESTION AND CHOKING INJURIES!

W.A.T.C.H. OUT! This "hedgehog", sold for oral-age children as young as 18 months old, comes with twelve removable, rigid-plastic "quills" measuring approximately 3 1⁄2 inches long. The quills can potentially be mouthed and occlude a child's airway.

Bunchems Bunch'N Build

HAZARD: POTENTIAL FOR HAIR ENTANGLEMENT AND CHOKING!

W.A.T.C.H. OUT! "Bunchems" are multi-colored activity balls that are meant to stick together when children engage in building activities. There have been report of the plastic, connective toys becoming ensnared in children's hair. The manufacturer itself provides numerous warnings related to this hazard, including a large, bright orange box insert stating in part: "CAUTION: KEEP AWAY FROM HAIR. During play, tie hair back to avoid entanglement. Keep away from pets…."

Yeti

HAZARD: POTENTIAL FOR INGESTION/ASPIRATION INJURIES!

W.A.T.C.H. OUT! This soft, ape-like "Yeti" creature is sold for oral-age children. The "cuddle" toy has long, fiber-like hair that may not be adequately rooted, such that pulling with minimum effort could lead to removal. Once separated from the toy, the hair presents the potential for ingestion or aspiration injuries. This hazard is not referenced anywhere on the product or product tags.

Nickelodeon Frozen Treats Slime
HAZARD: POTENTIAL FOR CHEMICAL INGESTION AND IRRITATION INJURIES!

W.A.T.C.H. OUT! Nickelodeon's colorful "slime" is offered to children with the appearance of some of their favorite frozen treats, including "mint chocolate chip", "berry smoothie", and "soft serve." At the same time, the manufacturer issues a warning regarding "harmful chemicals" while advising: "NOT REAL FOOD—DO NOT EAT

ANSTOY ELECTRONIC TOY GUN

HAZARD: REALISTIC TOY WEAPONRY!

W.A.T.C.H. OUT! Given the numerous reported tragedies resulting from outfitting children with realistic toy weapons, there is simply no excuse for marketing "toys" such as this "submachine gun." Existing regulations addressing the hazards are inadequate. Detailed replicas mistaken for lethal weaponry have resulted in numerous deaths over the years, and should never be sold as toys.

DIECAST SCHOOL BUS

HAZARD: POTENTIAL FOR CHOKING INJURIES!

W.A.T.C.H. OUT! These miniature yellow school buses are sold with a "choking hazard" warning on a removable, stick-on label. The firm rubber tires, mounted on plastic wheels, can be removed, presenting the potential for a serious choking injury for oral age children.

POGO TRICK BOARD

HAZARD: POTENTIAL FOR HEAD AND IMPACT INJURIES!

W.A.T.C.H. OUT! Children using this "Pogo Trick Board" with "high bounce ball" are provided "[d]ual handles for tricking out." Despite the manufacturer's warning to wear a helmet and other "protective gear", only two of the three children shown on the packaging are wearing helmets, and none are using other protective items.

POWER RANGERS ELECTRONIC CHEETAH CLAW

HAZARD: POTENTIAL FOR EYE AND FACIAL INJURIES!

W.A.T.C.H. OUT! The Power Rangers "BEAST Morphers" claws are made of rigid plastic. Five-year-olds are encouraged to use the "strength of the CHEETAH CLAW" to "take on…enemies!" The manufacturer simultaneously advises children not to "hit or swing at people…."

VIGA PULL ALONG CATERPILLAR

HAZARD: POTENTIAL FOR STRANGULATION AND ENTANGLEMENT INJURIES!

W.A.T.C.H. OUT! Despite the industry's standard requiring strings on playpen and crib toys to be less than 12 inches in length, manufacturers are still permitted to market "pull toys" such as the "Pull Along Caterpillar" with a cord measuring approximately 24 inches. No warnings are provided.