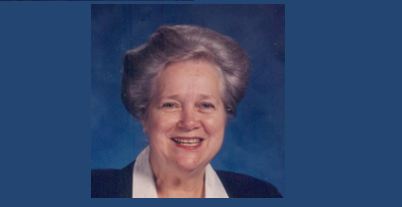 Vera J. Steinhauser, 87, passed away Wednesday, March 21, 2018. She was born May 18, 1930 in Jackson Township, OH to the late Marvin and Marvine (Hoover) Rhoades. After graduation, Vera attended Ohio University and graduated Summa Cum Laude and was a member of Kappa Delta Pi National Honor Society for Education. She taught at Westfall School District for 30 years. Vera was a member of Trinity Lutheran Church and taught Sunday school. She was a founding member of the Child Advancement Club of the Ohio Child Conservation League. Vera was also a charter member of the WWII Monument Commission. She had a passion for dance and took lessons from Stella Becker in Columbus. She owned and taught at her own dance studio in Circleville.
Along with her parents, Vera was preceded in death by her husband, Charles H. Steinhauser; infant twin sons; grandson, Zachary A. Souers; brothers, Wayne H. Rhoades and Marvin Marion (Babe) Rhoades; brothers-in-law, Carl Steinhauser, Jr. and Earl "Deak" Ater; sister-in-law, Joan Steinhauser. She is survived by her children, Suzanne (Jeff) Souers of Wooster, OH, Charles B. (Catherine) Steinhauser of Circleville, OH, Karen "Kelly" Steinhauser of Circleville, OH and Elaine (Mark) Johnston of Huntsville, AL; grandchildren, Gretchen N. (Ben) Souers Berndt, Karl A. Steinhauser, Bryce P. Johnston (Katie Jo Gann), Reece G. Johnston, Katrina H. Steinhauser and great-grand child Presley Ann Johnston; sisters-in-law, Coralee Rhoades, Sue Rhoades, and Becky Ater along with other dear family members.
Visitation will be held Friday, March 23, 2018 from 4-7 pm at Defenbaugh-Wise-Schoedinger Funeral Home 151 E Main St. Circleville. A funeral service will begin at 10:00 am on Saturday, March 24, 2018 at Trinity Lutheran Church 135 E Mound St. with Pastor Gerhard Kraus officiating. Burial to follow at Jackson Township Cemetery. Memorial contributions may be made to Trinity Lutheran Church and WOSU Radio Television. Please visit www.schoedinger.com to leave a fond memory of Vera.