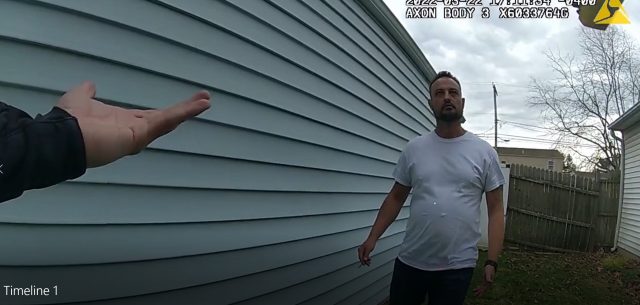 CIRCLEVILLE – On 3/22/22 around 3:42 pm a foot chase occurred and a man was arrested he claimed his innocents but the police had dealt with him several times that day, this time Police had enough and he was charged.
According to the Circleville Police department, the events with Johnny Johnson started around 1 pm on 3/22/22 when Johnnie took a woman's car to get some, "to get some wraps to smoke with." The issue according to the woman is that she didn't allow him to, and he was intoxicated on alcohol and from, "huffing the air canisters in the home." when he returned from the store he needed help in parking the vehicle because the witness said he was so intoxicated.
When the owner of the car confronted Johnny there was a loud verbal confrontation between the two and police arrived. Officers cleared the scene shortly after once all parties were warned for disorderly conduct and the woman agreed to take Johnny into her care for the next eight hours.
It was learned afterward that a victim called police after claiming that Johnny during his ride had hit him with the car, the victim said that Johnny had passed out on Nicolas Drive on the way back to Tower court and when the victim woke him it startled him and he took off hitting him. Police were called to the scene again along with medics to check on the victim, he was transported to the local hospital.
After this incident, an officer was placed in the area to make sure that Johnny stayed put. While police were sitting on the home Johnnie's neighbor approached me stating that Johnnie was causing issues while he was on his front porch by yelling and screaming at him calling him a
"ni__er" and that he "would beat his as_".
Due to previously giving Johnnie a warning about causing issues the officer called in for back up and notified other officers Johnnie would be getting placed under arrest for disorderly conduct. It is unclear how but Johnnie was notified he would be arrested and he fled the scene but was observed by neighbors running to Avon Dr.
Johnson was charged with Disorderly conduct and Childen endangerment.
That takes you to the video: https://fb.watch/c1Z10dBZre/