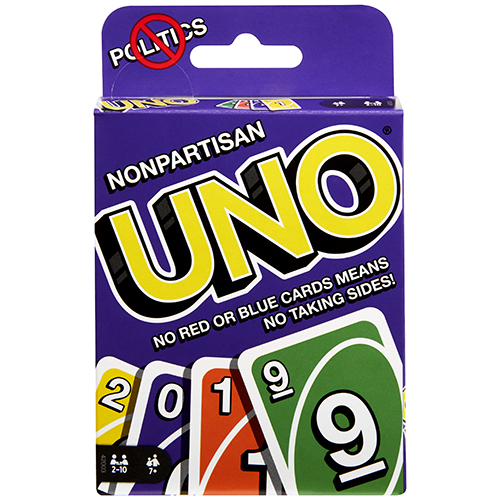 USa – UNO has released a Nonpartisan card deck that is aimed at having family fun without politics over the holiday season.
40% of people admit that opposite political views and voting patterns are problematic within their families according to a Yougov report.
Uno says, "that political discussions are important its also important to take a break and enjoy family. Uno makes it easier than ever this holiday season with UNO Nonpartisan."
The new card are minus both red and blue cards and have a non politics special card in the deck
Four suits of 25 cards each, eight Wild cards, three Customizable cards and one Special Rule card. Earn points from other players when you go out first
Reach 500 points to win the standard game
Two-handed, partner, and tournament options for even more action –everything you need to know is inside the instruction guide
Includes 112-card deck plus instructions and scoring rules

The deck is available at major retailers nationwide.