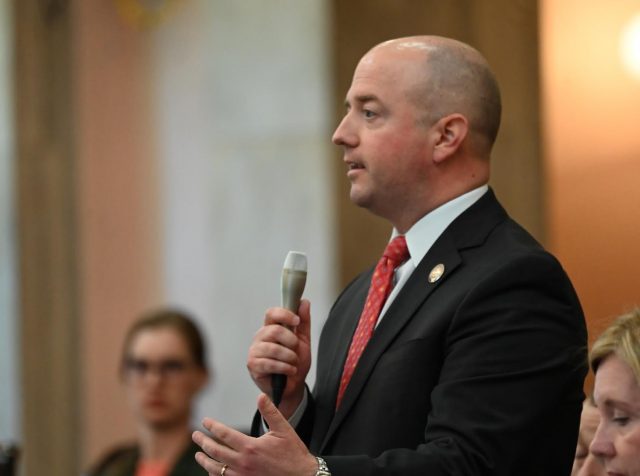 COLUMBUS – State Representative Brian Stewart (R-Ashville), who led the effort in the Ohio House with House Joint Resolution 1 (HJR1), the Ohio Constitution Protection Amendment, spoke passionately on the House floor in favor of Senate Joint Resolution 2 (SJR2), the final version of the resolution. Stewart voted in favor of SJR2, which will go before voters on August 8, 2023.
"Today is an important day for Ohio and another step forward in protecting Ohio's Constitution," said Rep. Stewart. "Now we ask Ohioans to decide how our Constitution should be amended, by citizens from each of our 88 counties or by out-of-state interests."
In January, Representative Stewart introduced HJR1, the original resolution to protect Ohio's Constitution. If passed by voters, the proposed amendment to Ohio's Constitution would require any future constitutional amendment to be approved by at least 60% of the vote total. The proposed amendment would also change the requirements for getting a citizen-initiated constitutional amendment on the ballot by requiring an initiative petition for a citizen-initiated constitutional amendment to be signed by at least 5% of the electors from each of Ohio's 88 counties. It would eliminate the ten-day cure period to gather additional signatures for an initiative petition.
"It took six months of hard work, but I'm very pleased to see my Ohio Constitution Protection Amendment passed by the House today. Thanks to everyone who helped make this possible, and I'm looking forward to the election in August."